Stunning Data
Sunday, March 15, 2020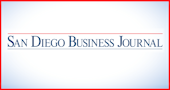 I have always been impressed with a summer school program held at San Diego State University each year to help expose hundreds of kids to STEM careers. STEM (Science, Technology, Engineering and Mathematics) is an area that all too often is still overlooked by young people, especially women and minorities, when deciding their futures. The camps have been running for more than 20 years, and attract youth from all over the nation. It exposes them to the excitement of a high-tech career and its alumni speak highly of the hands-on experience.
Although programs like these are helping to educate and excite new generations about tech fields, the latest data shows that the numbers for women in high-tech are still less than 25 percent of the industry's workforce. This is better than it was just a decade ago, but the most disturbing data is a 50 percent women exit rate.
Athena, a local voice for women in STEM leadership, and five other influential regional affinity groups: Blacks in Tech, Designing Women, Girls in Tech SD, #LatinaGeeks, and Women Who Code SD met together for what has been described by participants as an extraordinary collaboration. The 1st Annual San Diego Tech Women's Summit (SDTWS) was held March 7 as part of San Diego's International Women's Day celebration, and held on the Qualcomm campus. More than 300 tech women attended this nine-hour Saturday career and resource fair that also featured assistance from the Women's Employee Resource Groups (ERGs) of Intuit, Qualcomm and Sony Playstation, which showcased their "culture code" and internal programs that welcome and support women in the industry.
Holly Smithson, Athena CEO, said that the startling data calls for women to support each other, and share resources "to keep you in the game." Although much of the information shared was sobering, Smithson said that it only strengthened a deep sense of purpose among those attending and a decision was made to do it again next year.
"Although many of us were stunned at the data, everybody felt a sense of hope. The data shows us we need to continue this conversation," she said.
• • •
Excitement about what you do is an essential business ingredient, and Jonathan Gallagher, CEO of San Diego based Coastal Payroll definitely has it.
A six-time San Diego Business Journal 100 Fastest Growing private companies honoree, Coastal Payroll is celebrating its February acquisition of Bay Area-based Paystar Payroll.
A San Diego based company purchasing a Bay Area business is somewhat unusual – too often it seems to be the other way around. But Coastal sees incredible opportunity in the Bay Area.
"We knew the owners and we were looking for an opportunity. Paystar was a great fit for us," Gallagher said. "Expanding our base is key — we can capitalize and offer them different services."
But success always comes down to one thing for Gallagher — quality customer service.