Money in the Local Banks
Sunday, March 15, 2020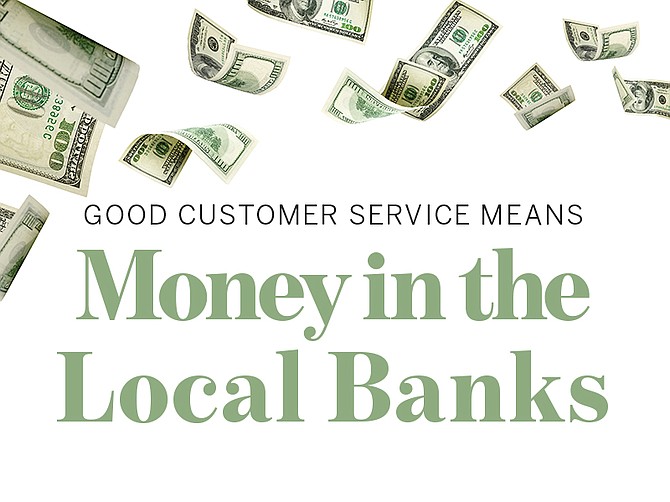 Rather than trying to be all things to all people, today's community banks are more likely to find a niche where they can excel and differentiate themselves from the competition.
That's true of the banks headquartered in San Diego, which have each settled on one or more areas of expertise, and worked to excel at those specific products and services.
"What we want is to be the best at what we do," said A.J. Moyer, president and CEO of San Diego-based C3bank, which focuses on commercial real estate loans, but also offers a full suite of products for businesses, as well as consumer offerings such as online and mobile banking and debit cards.
C3bank was purchased by its current owners in 2014, and it has grown steadily since then, doubling its assets to $356 million over that period, said Moyer. In 2019, the bank opened a new headquarters and flagship branch in Encinitas, bringing it to four branches in total. At the same time, said Moyer, the bank seeks to provide digital and online services to spur growth, rather than opening more brick-and-mortar locations.
Not only have banks become more specialized, but there are fewer banks in existence today than in decades past. Dan Yates, CEO of San Diego-based Endeavor Bank, said that in the 1980s, there were 15,000 or more banks in the United States, a figure that has dropped to less than 6,000 today. The story is the same in San Diego, which once had more than 40 local banks, while today's total is about one-fourth of that number.
Endeavor, which opened for business in January 2018, is the newest entry to the ranks of San Diego-based banks. The bank focuses on serving local businesses, although it also offers products and services for consumers. The majority of Endeavor's 620 shareholders are San Diego business leaders, who refer business to the bank every day, said Yates, and the bank also refers business opportunities to them.
Lasting Relationships
Yates said his priority is to establish what he called "sticky" relationships with his business customers — products such as lines of credit and checking accounts that businesses are likely to maintain once they are established. On the other hand, he said, certificates of deposit, or CDs, are not sticky because customers tend to shop around to get the best interest rate.
Endeavor is big on "consultative banking," offering ideas, advice and guidance to its business clients regarding their specific goals and objectives, whether they seek to raise capital, sell their business or establish a leadership succession plan.

"That's kind of our niche," said Yates.
Endeavor is on track to achieve profitability later this year, as it nears its third anniversary, which Yates said is typical for newly established banks.
Digital Currency
Another locally based financial institution that has found a way to set itself apart is Silvergate Bank, which was founded in 1988. In 2013, the bank began to explore digital currency as a way to bring in new deposits, which banks need to fund their lending activity. Silvergate opened its first digital currency (also called cryptocurrency) account in 2014, said president and CEO Alan Lane. As of the end of 2019, said Lane, the bank had accounts for 804 digital currency customers from around the world, representing total deposits of $1.2 billion.
"We really benefitted from being an early mover," said Lane.
The predominant digital currency is Bitcoin, and other digital currencies include Ethereum and XRP. Digital currency is not tied to paper bills or coins, but is instead tracked through an online ledger system called a blockchain.
"Only about a half-dozen banks in the country are banking cryptocurrency customers. It's really quite unique," Lane said.

Silvergate's digital currency initiative will fuel its long-term growth, and it also served as the primary driver for the bank's initial public offering, which was completed in 2019, Lane said.
San Diego's Seacoast Commerce Bank took a different path to stand out from the crowd. For the past 10 years, the bank's major focus has been on making Small Business Administration loans, a federal government program, said president and CEO Rick Sanborn.
Through the SBA loan program, said Sanborn, businesses can buy their own buildings with only 10% down, rather than the 20% or 25% down payment required for traditional bank loans. That focus has propelled Seacoast into becoming the 10th largest SBA lender in the country, out of some 3,000 banks that offer SBA loans, Sanborn said.
From the bank's perspective, the SBA program offers very low-risk loans, because they are backed by real estate as collateral, and the federal government guarantees 75 percent of the loan's value. "No other product offers that kind of low-risk lending," Sanborn said.
Seacoast is expanding its SBA loan program by bringing on new SBA loan officers every year, and opening loan offices across the country. It currently has SBA loan offices in 15 states, said Sanborn, and, "We are continuing to build that footprint."
Over the past ten years, Sanborn said, the bank has made some 2,200 SBA loans totaling more than $2 billion. Of those loans, he said, only 13 have gone into foreclosure, resulting in net losses to the bank of about $30,000.
Forming relationships with small- and medium-sized businesses is the focus of Bank of Southern California, which differentiates the San Diego-based bank from the large, nationwide banks, said president and CEO Nathan Rogge. The bank spends a lot of time and energy building its base of business checking accounts, which grew by 21 percent in 2019, Rogge said.
Personal Contact
One difference between his bank and large national banks, said Rogge, is that when customers call, they reach one of the bank's branch offices, rather than a call center. And the person they speak to will be familiar with their business, their account and their typical transactions. Each business customer is also assigned a banker who checks in with them at least once a quarter.
Over the past seven years, Rogge said, Bank of Southern California has grown both organically and through acquisitions, carrying out six such transactions. The latest acquisition, of CalWest Bank in Irvine, is expected to close in May.
Traditionally, Home Bank of California, which is family owned, has specialized in commercial real estate loans, including transactions that other banks may not be willing or able to handle, said Christy Schmitt, senior vice president and business banking managing director.
That may mean accepting a loan-to-value ratio higher than the industry standard, or working with a business owner who may have less than perfect credit, Schmitt said. To make that happen, she said, the bank may use another piece of property for collateral. "We'll look at everything and find a way to do it," she said.
In 2019, the bank added retail business banking to its offerings, such as loans, checking accounts, payroll and merchant services, Schmitt said. The bank's primary focus is on businesses with revenue of $10 million or less. "Our niche market is the small business" in Southern California, she said.
The bank, which has one branch location but serves customers throughout Southern California, is enhancing its online presence through partnership with Numerated, a fintech or financial technology company, Schmitt said. Through Numerated, Home Bank will offer online loan applications and new accounts.

"Working with them will only benefit the customer and provide the convenience they're looking for," Schmitt said.
Turning Around Deals in 24 Hours
Exceptional customer service is also a key focus for CalPrivate Bank, which is headquartered in La Jolla, said CEO Tom Wornham. The bank's territory covers coastal Southern California, from Beverly Hills to downtown San Diego.

The bank's three main areas of business are serving high net-worth individuals, family-owned businesses and providing SBA loans, Wornham said.

CalPrivate differentiates itself by offering creative solutions and turning deals around within 24 hours, Wornham said.
"Relationships, solutions and trust. That's our mantra," he said.
Wornham, who joined CalPrivate five years ago after a 30-year career with Wells Fargo, plans to retire as CEO in September, although he'll remain on the boards of both the bank and its holding company, Private Bancorp of America Inc.
Wornham will be succeeded by Rick Sowers, the bank's current president. Wornham said he expects the bank to keep on its present course while remaining "nimble," so that it can deal with whatever challenges come along, from the coronavirus to changes in interest rates.
"If you want to make God laugh, tell him your plan," Wornham said.