With Roots in Sustainability, The Plot Plans Growth
Thursday, March 12, 2020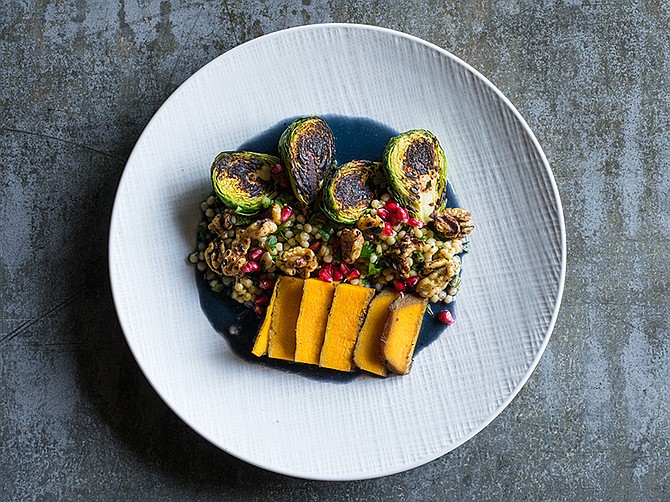 Husband and wife duo, Jessica Waite and Davin Waite, behind Oceanside culinary staples like Wrench & Rodent, Seabasstropub and The Whet Noodle, have always been into full resource utilization, or using as much of their produce and ingredients in their kitchens as possible. Now, the two have taken their sustainable approach a step further with the January opening of The Plot, also in Oceanside and San Diego's first and only plant-based and zero-waste concept, according to the company.
The goal, according to Jessica Waite, the restaurant's CEO and co-founder, is not only to be completely plant-based, but also to minimize waste as much as possible.
"Our first benchmark is that nothing that comes into the restaurant is destined for the landfill," said Jessica Waite, adding that The Plot has roughly 35 employees and was funded by like-minded private investors from the community. "Anything that we can't compost or reuse, we recycle. A lot of wine bottles are used as our (water) carafes before they go into the recycling packaging. Recycle is our last resort."
In order to use every bit of its food items as possible, Davin Waite, The Plot's executive chef, has come up with some innovative and creative ways to prepare his dishes. For example, Waite said he uses tangerines in a noodle salad, the peel to make oil and the pulp to make a sauce for desserts. Another case is celery, he said, which is juiced for breakfast beverages, boiled and turned into consommé, the peel is added to veggie stock that is used to flavor various menu items and the pulp that is left over from juicing the celery root is used in the restaurant's takoyaki appetizer item.
"The ingredients we are using are not changing, just our imagination and the lines in our heads as far as what society has taught us," said Davin Waite. "The idea of upcycling is not something we should pinch our noses and force back to force ourselves to eat it. It still has to be delicious … We are taking all of it and tying it back to something that is comfortable to the masses and familiar and also something that has value in taste. We are trying to break the ice enough where people will try something new and we are making sure it tastes good enough they want to order it again."
Because it is a relatively new concept, Jessica Waite said she originally forecast The Plot, which is only open for dinner, would serve around 150 per day. So far, The Plot, which, at press time was the No. 1 reservation in North County on OpenTable, an online restaurant reservation company, has been hosting an average of 185 customers daily, she said.
Inspired by its rapid growth and acceptance, Jessica and Davin Waite plan to introduce a breakfast and lunch option at The Plot starting mid-April. And, down the line, Davin Waite said the goal is to open more Plots around the county. In the meantime, he hopes The Plot's plant-based and zero-waste method can inspire others around town to "do the right thing."
"We want people to copy us," he said. "In a business where there are notoriously slim margins, doing the right thing doesn't have to be cost-prohibiting. You can flip it and make your business work... (while) still doing good business."