Lost Cause Meadery Opens Second Location
Wednesday, March 11, 2020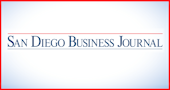 Lost Cause Meadery, headquartered in Miramar and founded in 2017, has opened a second location - a tasting room and production facility - in Bay Park. According to a press release, the new 3,200 square foot space will open to the public on March 28.
"San Diego has a rich culture of craft drinkers who aren't afraid to experiment and try something new, and we've been blown away by the positive response we've received from the community so far," said Billy Beltz, owner of Lost Cause Meadery. "We can't wait to unveil the new tasting room space to our fans and begin expanding production in the new facility."
The new location will share tasting room space with next door neighbor Deft Brewing, and the patio will be home toCucina Caprese, makers of wood-fired pizzas. Inside the second Lost Cause Meadery venue, the walls feature murals and artwork from local artists, according to the press release.
Travel & Hospitality reporter Mariel Concepcion can be reached at mconcepcion@sdbj.com or 858-634-4625.