Collective Serves Local Artisan Coffee Industry
Wednesday, March 11, 2020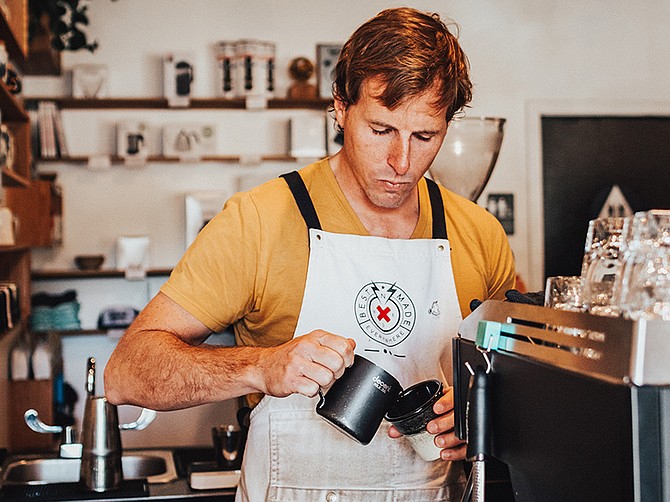 In 2015, Elliot Reinecke opened his own coffee shop, Steady State Roasting, located in Carlsbad. Inspired by his own learning and the growing local artisan coffee industry, the self-taught coffee roaster then opened California Roasting Collective in 2018, a coffee production rental space located in San Marcos. Its purpose, according to Reinecke, is to help others who may want to experiment with roasting or expand their current production but may not have the funds to do so.
"The amount of money it takes for the infrastructure to (create) a roastery is huge," Reinecke said. "From finding the right location, to running a gas line, dealing with the city — it's a super pain. Just renting roasters is expensive… All these things you need to start a (roasting facility), it limits people from getting it."
In Comes the Collective
At 4,000 square feet, the facility works by appointment only, said Reinecke, and has everything a roaster of any level could possibly want and need to start his/her own coffee roasting company. It currently roasts around 1,500 pounds of coffee a week, Reinecke said, and is booked for a total of about 20-25 hours per week.
"We have a lab in the front where you can sample roasted coffee from farmers," said 38-year-old Reinecke, who grew up in Maryland and graduated from the University of Maryland with a degree in information systems and a minor in business. "We have storage space for green coffee, which is usually stored in pallets. We have four different roasters, from half kilo to 22 kilo roasters. We have bagging equipment, storage for your retail bags, commercial grade mixers, food grade mixers, a grinder — so, literally everything you could want to start a coffee business."
Receiving Coffee
California Roasting Collective is also able to receive coffee at the facility for any of its customers as well, said Reinecke, through the use of its forklift — the latter which is a huge expense in itself, he said. This not only saves the client money but also time, because the coffee shop owner doesn't need to be present to receive the shipment. This service is an additional $40 fee, said Reinecke.
With about seven roasters currently roasting out of the facility, from as far north as South Orange County down to La Mesa and ranging from individual roasters to actual coffee shops, California Roasting Collective requires a one-time learning session for each of its customers. That is when Reinecke teaches the client things like how to run the roasters, what to do if there is a fire and how to run all the necessary software, he said.
The Options
Reinecke said clients can book classes online and have two options to choose from: a la carte or a monthly membership, the latter which requires a three months
minimum commitment and starts at around $115, he said. This comes with additional perks like free lab use.
One of California Roasting Collective's current clients is South Orange's Bear Coast Coffee, said Reinecke. He said, as a result of using the California Roasting Collective facility, the company now plans to open its own personal roasting facility later this year. And that, said Reinecke, is exactly what he hopes the outcome is for all of his customers.
"That is what we want to do — be a launch pad for these guys," he said. "They are saving money by roasting here, because, it is cheaper in the long run … They are learning (about) what equipment they like, how to roast, communicating with other roasters here, gaining knowledge (and) will know exactly what they want to do when they open their own."
The Plans
Reinecke said he is quite content with what the California Roasting Collective has done so far. The Collective is forecasting $500,000 in revenue. In fact, with the exception of maybe opening another café as late as next year and expanding the current roasting facility to add another green coffee storage unit, his plan is to continue to help push the local coffee industry forward by paying it forward.
"The coffee industry is only five, seven or eight years behind the craft beer scene," he said. "Eight years ago, no one knew what an IPA was. Now, they know what hops are in the beer. The same will happen with coffee… consumers will start to learn and say, 'I like coffee from Ethiopia and Colombia', and 'I like this varietal or that varietal'. There's a good audience here of people who want to learn about what they are consuming — everything is wide open for the future (and) San Diego has a great opportunity to become known for good coffee just like we are known for craft beer."