Six Startups Picked for Angel Conference and Chance for $200K
Tuesday, March 10, 2020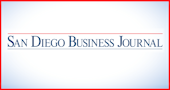 Six entrepreneurs have made the cut for The San Diego Angel Conference to compete for the biggest cash prize of the year.
The pitch event is part of the San Diego Angel Conference, founded in 2017 at the University of San Diego, created to build a bridge for local entrepreneurs and accredited investors.  
The conference culminates in a pitch event — similar to Shark Tank — where six companies compete on stage for a cash prize. The event, taking place on March 28, will give prospective angel investors a chance to learn more about the investing process. In total, the startups have a chance to compete for up to $200,000 in funding.
Typically pitch events give winners a few thousand dollars or are compensated in business services provided by bigger companies. In the past, San Diego's biggest competition was the John G. Watson Quick Pitch event, which awards $75,000 to its winners.
Launched by USD's The Brink, the purpose is to teach accredited investors how to be angels. Angel investors invest money to business owners in exchange for an ownership stake in the company. In particular, they can invest alone or pool their money in funds with other investors. Accredited angel investors participating in the event purchase units in a fund that is invested into the winner of the conference.
This year, the local program received over 100 applicants from entrepreneurs seeking to compete, and that's been narrowed down to six startups. The finalist companies included agriculture, medicine, environment, and property management.
Meet the Finalists
Agtools, a Irvine-based company that provides software service for farmers and other businesses in the agriculture sector, giving them access to data that can help drive decisions. CEO: Martha Montoya
GroGuru, an agtech company which develops sensors and software that help farmers know how much water and fertilizer their crops need. CEO: Patrick Henry 
LifeVoxel.AI, the startup offers AI-powered cloud software for diagnostic imaging centers. Company representative Bridget Brick will pitch.
Noria Water Technologies, a company that makes software and hardware for industrial water treatment that collects vast amounts of data on water, and provides real-time monitoring and analytics. CEO: Sivan Cohen 
SmartProperty, a company makes software for property managers to help with capital reserve planning. CEO: Damian Esparza 
Visicell Medical, a company that enables researchers to pinpoint the exact locations of cells in the body down the road. CEO: Mya Thu
"We are extremely excited about this year's finalists that are solving big problems and advancing novel technologies for delivering clean water, increasing crop yield, empowering cell therapies, unlocking medical imaging, streamlining property management, and providing critical information in the global agricultural supply chain," said Mysty Rusk, director, The Brink SBDC at USD, and founder of the San Diego Angel Conference.