Law Firm's Move Changes More Than Location
Monday, March 9, 2020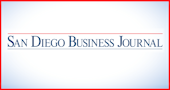 A Carmel Valley law firm has moved to new, smaller offices that have been dramatically redesigned from the conventional offices it had been leasing nearby.
Foley & Lardner relocated to a suite of offices in the Del Mar Gateway center, 11988 Camino Real, signing a 10-year lease to replace a 10-year lease that had expired for space in a nearby building.
"We're adapting to the times and we're trying to make the office a place that attorneys enjoy working at," said Paul Hunter, managing partner in San Diego.
Designed by Gensler, the new offices have a much more open look and feel with modular desks and conference rooms along glass walls.
"The old office was very standard — attorney offices on the outside windows, then secretarial stations along the interior," Hunter said. "The new offices, instead of offices that have wooden doors and closed-off, kind of regular walls, they have glass walls that will clearly make the entire space brighter with natural light and also open up the overall feel because of the glass."
The change has been a hit with the firm's younger lawyers.
"The younger lawyers like the collaborative spaces, they like the glass," Hunter said.
Older lawyers are adjusting.
"Initially, there was some hesitancy but seeing the new space and trying out the offices, they're excited, like the younger clients," Hunter said. "They like the fact that we're doing whatever we can to collaborate more and get more efficient."
Even though it's smaller, the new location has room to expand.
Foley & Lardner is leasing the entire fourth floor of the eight-story building.
Headquartered in Milwaukee, the firm has a staff of about 50 in San Diego.
Hunter said the firm expects to hire more lawyers to strengthen its practice in intellectual property, technology, biotechnology and medical devices.
Foley & Lardner's move comes at a time when law firms are being pushed or priced out of some of the more desirable neighborhoods by building owners catering to life science and biotech tenants, who are willing to pay more.
Hunter said finding space that wasn't an issue for his firm, although he knew of others who had to move.
Rents are higher in the new location, Hunter said, although he declined to say how much the firm paid under its old lease or how much it is paying for the new space.
The higher rent is partially offset by money the firm is saving by leasing less space.
"We're realizing a significant cost saving year-to-year," Hunter said, adding that it was "several hundreds of thousands of dollars" over the term of the lease.
Under the new lease, Foley & Lardner is leasing about 24,000 square feet in its new location compared with the 36,000 square feet it leased before.
"Over the course of the last 10 years, there have been some very significant changes in the legal industry. One of the most significant changes has been how we've gone digital with our files," Hunter said. "The footprint that we need for our offices has been dramatically reduced because of the digitalization of our files. With the increase in technology, our ability to video conference and other types of interfacing with our clients has reduced the need to come to our offices. We do some of that, but in the past, our partners had very large offices to enable partners to have clients come in and visit. We just don't see that as much as we used to."
Paper files, which once ate up a good amount of space, have largely disappeared.
"There are some paper files, but I would guess probably 90 percent of what we have is digital," Hunter said.
The switch to digital also has meant that there are fewer secretaries.
The ratio of secretaries to lawyers has gone from about one to four to one to five, Hunter said.