PvP Deal Could Be Worth More Than $330M
Sunday, March 8, 2020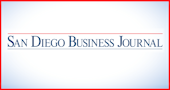 Japan's largest pharmaceutical has acquired San Diego-based PvP Biologics after a promising early-stage clinical trial of a drug designed to treat inflammation when those with celiac disease consume gluten.
Takeda paid an undisclosed amount upfront for PvP Biologics. In addition, the company could receive up to $330 million in payments tied to development and regulatory milestones.
In a phase 1 clinical trial PvP's drug degraded 95% of gluten that's found in rye, barley and wheat, according to Takeda, which will present full results at a future medical conference.

Degrade the Bad Parts
"The idea here is that if you can degrade the bad parts of gluten and your small intestine never sees them, the disease isn't triggered," said Adam Simpson, president and CEO of PvP Biologics.
Some 3 million people in the U.S. have celiac. They must carefully avoid eating gluten, or otherwise risk diarrhea and abdominal pain. If left untreated, long-term problems like malnutrition and accelerated osteoporosis can follow.
Simpson said those with severe cases of celiac can still experience symptoms even if they embrace a gluten-free diet.
"The gluten-free diet is like decaf coffee. It leaves gluten below a certain amount, but it's not actually truly gluten-free," Simpson said.
Takeda in a statement said the potential treatment — called KUMA062 — could "change the standard of care in celiac disease."
Takeda is preparing to push KUMA062 further into clinical testing — specifically a phase 2b clinical trial. Typically drugs must undergo three phases of clinical trials for a chance at regulatory approval.
The phase 1 clinical trial included both healthy volunteers at those with celiac, per Takeda.

The genesis of the deal came three years ago, when Takeda gave PvP $35 million in exchange for the exclusive option to buy the company. Takeda acted after seeing data from the phase 1 clinical trial.

PvP at its peak had 17 employees.
'Proof of Mechanism'
"It's a great nimble company story. Despite a relatively small headcount we were able to develop the drug pretty quickly and demonstrate the proof of mechanism," Simpson said.
He added the deal is emblematic of San Diego, a favorite location of pharmaceuticals on the hunt for promising technologies. As another example, Simpson and others at PvP were part of San Diego's Meritage Pharma, which Shire bought in 2015 for up to $245 million.
In 2016, PvP spun out of University of Washington's Institute for Protein Design. The division designed an enzyme to break down gluten in the stomach before hitting the intestine.
Takeda — known for a long history in gastrointestinal disorders — has another potential celiac drug. Last October, Takeda bought rights to potential celiac treatment from Chicago-based Cour Pharmaceuticals that takes a different approach.
Cour's drug — which has completed a phase 2a clinical trial — aims to induce tolerance to gluten.

San Diego Presence
In recent years Takeda has expanded its San Diego presence. Last year, the company opened a 165,000-square-foot research facility in UTC that's home to more than 250 employees, specializing in developing drugs for gastroenterology and neuroscience.
Takeda in a statement at the time said the facility would "leverage our relationships with academic and industry partners and patient groups." In addition, Takeda has invested in local companies as of late, including Seqster and Avidity Biosciences.
Beyond Takeda, celiac was at the center of another recent acquisition, in which British pharmaceutical GlaxoSmithKline bought San Diego's Sitari Pharmaceuticals for undisclosed terms.
Sitari's program for the hereditary condition is gearing up to request regulatory approval to begin clinical trials.