Jumping In
Sunday, March 8, 2020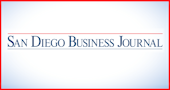 This week I take over the SDBJ Insider column and I want to thank Steve Adamek for keeping this column going strong during the last few months. Also, a special thanks to the entire staff here at the San Diego Business Journal and so many in the business community who have warmly welcomed me to my new position as editor-in-chief.
Coming here directly from San Diego State University and having earlier spent a decade in East County running my own media company, I know first-hand how the SDBJ has always been a must read for anyone who wants to keep abreast of what is going on in our region's innovative business community. To now be a part of the leadership team of such a respected resource is indeed an honor.
As I continue to get settled in, I look forward to meeting many more of our readers and business leaders and hearing your suggestions and comments. Story ideas are always welcome.
•••
The San Diego-based seafood company Bumble Bee Foods LLC, has taken a big step that gives a new definition to the term "fish out of water." The company announced March 2 a joint venture partnership with Gathered Foods Corp., makers of Good Catch, plant-based seafood. The company said that this partnership is a "win for Bumble Bee, Good Catch, consumers and the health of our oceans." With the growing food trend of plant-based burgers and dairy — along with the growing concern for the sustainability of our oceans — plant-based seafood makes business sense.
This partnership will undoubtedly make Good Catch products far more available and affordable and give Bumble Bee a needed edge in an emerging market.
The growing consumer desire for meat-alternative products is a fact and Bumble Bee seems to be making a very smart move by being the first major seafood company to jump in.
•••
Advancing San Diego — a program led by San Diego Regional EDC — will provide 100 small companies and startups with fully funded internships for STEM students. Applications for companies are now open at AdvancingSD.org. Internships are available to companies with fewer than 100 employees looking for better access to STEM talent at a price that can't be beat — It is free.
The program is helping the region achieve its inclusive growth goals. To ensure future competitiveness, San Diego must double the production of local workers with in-demand degrees or credentials by 2030, the EDC said. The program is made possible by JPMorgan Chase's AdvancingCities Challenge which awarded San Diego $3 million grant to drive inclusive growth.