Flock Freight Attracts $50M In Series B
Sunday, March 8, 2020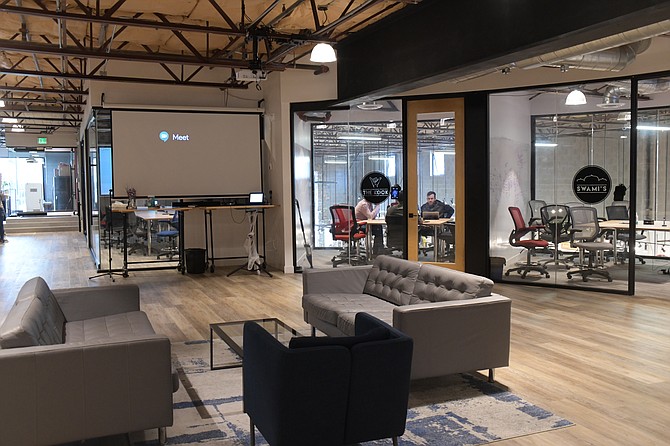 Flock Freight, a startup headquartered in Solana Beach drew $50 million in Series B funding co-led by Santa Monica Private Equity firm GLP Capital Partners and Silicon Valley-based SignalFire. The deal is one of San Diego's largest VC funding deals so far, following two DNA tech companies Element Biosciences and Omniome which received $60 million earlier this year.
Shipping trucks play a crucial role in transporting freight across states and the globe. In 2017, those trucks carried over 60 percent of the $614 billion goods imported from Canada and Mexico, and that number has continued to increase.
However, while giant corporations have a good handle on the multi-billion dollar industry, small and medium business are being left out of the equation. Flock Freight's chief executive, Oren Zaslansky, said that shippers are experiencing the pain points of finding a fast, efficient and cost-effective alternative solution for moving smaller freight loads.
According to Flock Freight, trucks moving freight across the U.S. on average are only about 75% full. "We're making sure that trucks are completely full, reducing the amount of carbon emissions that are being expelled on empty miles, and customers really understand the value in those things," said Flock Freight's Vice President of Marketing Jeff Lerner.
To fill this need, the company introduced its latest solution —  FlockDirect  —  a digital AI-backed marketplace that pools less-than-truckload (LTL) and partial-truckload (PTL) freight shipments so they can be shipped at a full truckload service. Founded in 2015 by shipping industry veteran Zaslansky, Flock Freight has been operating in stealth mode for the past two years.
In 2017, the startup raised $2.5 million seed round following an $18 million Series A round led by GV (previously call Google Ventures) bringing its total funding received to over $70 million to date.
With the new funding, the company plans to double its headcount, currently at 65 staffers, to grow its local presence in the region and expand its marketplace — FlockDirect.
Zaslansky said he grew up around freight and entrepreneurship. At age 21, he started a successful trucking business helping scale the company from seven to 125 tractor trailers and shortly after launched a freight brokerage company partnering with local clients including Whole Foods, Sprouts, and Four Seasons.
"After about a decade and building that business, I was ready for what's next." Zaslansky said, "I've had some success having worked (in) the industry. Now I want to work (on) the industry."
The company said it's pioneering the hub-less shipping market, benefiting both the shipper and the carrier. Currently, it's the only product on the market where customers are guaranteed a carpooled solution at the time of purchase, according to the company.
How FlockDirect Works
For LTL (less than load) freight shipments, the company facilitates the travel of shipments on trucks to their intended destinations, side stepping the traditional hub-and-spoke freight transit model.
In the case of PTL (partial truck load), the platform finds as many as 10 trucks along a single route and "carpools" them together into a single truckload to maximize cost savings. Which the company defines as a maximum of 24 pallets that take up to 48 feet in deck space, weigh under 40,000 pounds and are headed to a single location.
In addition, the company said it conducted a ton of research and talked to customers to identify three main pain points that their target customers experience on a daily basis. Flock Freight's competitive advantage is three fold: Customers only pay for the space they use; they receive faster freight arrival; and they have lower damage risks compared with its competitors.
"The first is damage. When loading and unloading multiple times in multiple warehouses, there's a high likelihood of their freight getting broken. The second is time and capacity being the third. With Flock Freight we solve for all three,: Lerner said.
Servicing Over 1,000 Customers
The company says its damage claim rate is 0.001% and that its on-time delivery rate is 97.5%, and that it's able to reduce fuel emissions by up to 40% by eliminating the need to switch trucks or stop at warehouses.
Industry competitors in the space include Uber Freight, to which it recently committed another $200 million as part of a major expansion. San Francisco-based startup KeepTruckin recently secured $149 million to further develop its shipment marketplace, and Next Trucking closed a $97 million investment. For its part, Convoy raised $400 million at a $2.75 billion valuation to make freight trucking more efficient.
Zaslansky said its driver network in the U.S. and Canada numbers in the thousands, each individual driver can be tracked in real time.
"We're shipping for over 1,000 customers a month, at this point, moving towards thousands of shipments," Zaslansky said.
Looking Ahead
The company said it has a unique opportunity to really stand out to recruit and retain in San Diego.
"There's great talent that would like to stay here but they're only going to stay here to the degree that they've got a really big opportunity. We believe that the opportunity we bring is as big as anything you're going to find anywhere," Zaslansky said.
The big initiative the company said it's honing in on this year, lies on the supply side. Specifically, building automated digital integrations with trucking companies, bringing high-level of automation and efficiency to its marketplace.
Putting the Brakes on Emissions
Another part of the company's growth plan is to have a meaningful impact on the environment by reducing carbon emissions within industry.
"We believe we've established product market fit and it's time to truly scale fast. We want to want to grow the business by multiples this year and probably raise a growth round again next year at some point and really build a very significant business and do it in San Diego."