Business Interruption Insurance Can Be a Bridge Over Troubled Times
Sunday, March 8, 2020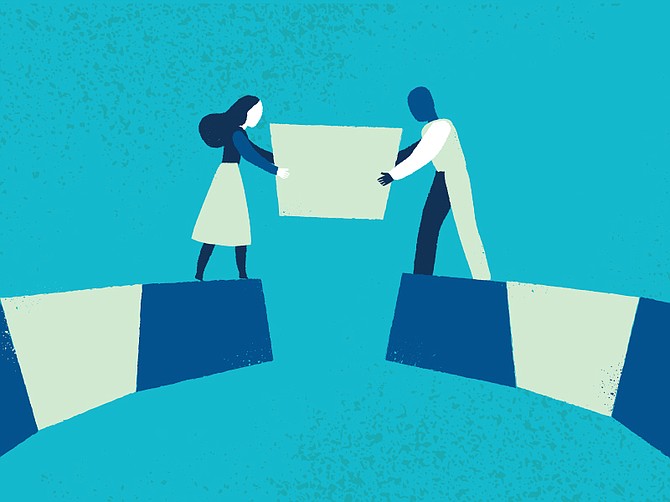 Business interruption insurance can keep a company afloat during a temporary closure, but it's not likely to provide relief for businesses that find themselves sidelined by a worldwide COVID-19 pandemic.
"We are getting a lot of questions from our clientele with regard to the coronavirus now," said Tom Geisbush, a vice president at Teague Insurance Agency Inc. in La Mesa. "We've had quite a few clients call us regarding whether or not there would be protection if they had a disruption."
The COVID-19 outbreak is expected to impact many U.S. businesses directly and indirectly. There is a potential for impacting everything from companies that rely on goods manufactured in China to international travel and tourism. In most cases, businesses that face closures due to disease-related disruptions in the supply chain or illnesses among their employees likely won't be able to rely on business interruption coverage, Geisbush said.
Navigating Through Exclusions
Consumers must read insurance policy language closely to understand the circumstances that must exist in order to collect on claims. Most property insurance coverage policy forms have exclusions for viruses and bacteria, said Geisbush.
Such exclusions have created a challenge for businesses that wish to insure themselves against disease-related disruptions, said Tyler LaMantia, San Diego area president for the Gallagher insurance brokerage.
Business interruption coverage typically is purchased as an add-on to a property/casualty policy. Even if businesses are able to find coverage that doesn't exclude closures caused by illnesses, it's too late to obtain protection for the COVID-19 epidemic, said Greg Pendergast, a principal in the business insurance division of Marsh & McLennan Insurance Agency LLC.
Measuring the Risk
"Obtaining business interruption insurance specific to this type of problem, which really is a communicable disease event, is difficult," Pendergast said. "Carriers are reluctant to offer significant limits of coverage when they have no ability to predict the outcome. There is no way to measure what the potential risk is."
Most businesses carry some form of business interruption insurance, Pendergast noted. Policies generally compensate business owners for lost income if they must vacate for disaster related damage. They compensate for the revenue that would have been earned — based on a company's financial records — had problems not occurred. Perils that are covered typically include fire, wind, theft, lightning, or falling objects. Sometimes government-mandated closures of business trigger claims. Business interruptions caused by floods or earthquakes typically are not covered.
Planning a Reopening
It often takes businesses longer to reopen than anticipated after a closure. Policyholders need to make sure their coverage is comprehensive enough to cover the many costs associated with closures. Expenses may include such things as ongoing payroll costs, utilities, structural repairs, or relocating the business.
Business interruption coverage typically lasts from the time that a covered peril began until the damaged property is returned to the condition that existed prior to the closure. Policies include an agreed-upon coverage limit, which is the total amount the insurer will pay toward a claim. Losses in excess of these limits typically are the business owner's responsibility.
Paying a Fair Price
Deciding how much coverage to purchase can be a complicated task, said Pendergast. "It's not always easy to determine."
Consumers must weigh the expense of the policy against the potential benefits they will receive. The cost is tied to the risk of closure. For example, an insurance underwriter may conclude that a business with a kitchen has a higher risk of fire than a business that houses only office equipment. A real estate office or a cellphone store typically can relocate more easily and cheaply than a restaurant, which must have adequate space for cooking and refrigeration.
If a business is in an area with a high risk of wildfire, the cost of coverage may increase. If the location frequently is hit by natural disasters, such as hurricanes and severe storms, policyholders may have to pay more for coverage.
Natural disasters often are the cause of business closures. Last year was the seventh year in the past decade in which 10 or more weather and climate disasters costing in excess of $1 billion occurred, according to CoreLogic's 2019 Natural Hazard Report.
Finding the right insurance coverage for a business requires careful financial planning and a thorough understanding of policy language.
"This process is complicated," said Pendergast. "Business owners need to ask questions."