Robolink Puts Both Learning and Fun in Lesson Plan
Thursday, March 5, 2020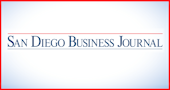 After proving it can run a business teaching STEM education with innovative tools, San Diego-based Robolink is pushing to expand its presence throughout the U.S. and abroad.
"Over 1,000 schools are using our products," said CEO Hansol Hong, who started the company in 2012. "We were a frontrunner on using interesting tools as a medium to teach. We've been teaching AI (artificial intelligence) using a self-driving car kit. In 2016, when we started teaching code with a drone, people weren't familiar with the concept of coding education."
The company's goal is to make science, technology, engineering and math — collectively known as STEM — much more accessible. Robolink strives to combine learning with play to teach subjects such as robotics, artificial intelligence, and computer coding. The company's products are sold worldwide.
It's important for children to learn STEM skills in order to be prepared when they enter the evolving workplace, Hong said. Jodi Reeves, interim associate dean for the College of Professional Studies at National University, says that mission is an important one.
"STEM skills are percolating through every field," she said. "There are very few jobs these days where you don't need the skills that come from STEM activities. Robotics is a great combination of engineering, computer science, and AI. Those skills are very useful in many jobs."
Introducing the Element of Play
Reeves said Robolink's strategy of introducing play into teaching is key to getting students excited about technology and keeping them involved as they move into middle school and beyond. National University partners with the Girl Scouts San Diego to host regular technology-focused clinics in support of STEM education. The university also sponsors First Robotics Competition, an international contest for K-12 students, noted James Jaurez, who teaches in the Department of Engineering and Computing.
"Robotics brings purpose to programming because the students buy into the idea of building their robots and making them better," Jaurez said.
Robolink products, which are sold on online, include Zumi, a self-driving toy car, and a drone-building kit called CoDrone. Zumi relies heavily on its camera for navigation, Hong explained. The car also teaches students about facial recognition technology.
"Zumi actually reads your smile," Hong said. "When you smile Zumi comes toward you. When you frown it runs away from you. We try to make it fun."
The device has a lot in common with the self-driving car technology used by Tesla, he added.
"We're following the same methodology as Tesla," Hong said. "We collect image data and process it through AI. We teach students how to make the data work."