Child Care Startup Moves to Sorrento Valley Headquarters
Thursday, March 5, 2020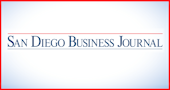 Child care startup TOOTRiS announced the opening of its new headquarters in Sorrento Valley. The company is relocating from Scripps Ranch.
TOOTRiS said the move is necessary to accommodate growth and an expanding workforce, which is expected to reach 40 employees this year.
According to the company, its Sorrento Valley headquarters will include a state-of-the-art Family Child Care showroom exhibit. The office will be at 6170 Cornerstone Court E. in the new 40,000 square-foot Cornerstone Plaza building.
TOOTRiS' technology platform "helps parents access and pay-as-they-go for high-quality child care based on their unique needs, such as their schedule, family income and workplace location, to ensure that every child has access to high-quality early childhood education."
Alessandra Lezama is founder and CEO of TOOTRiS. In her previous role, she was CEO at AbacusNext.
"Child Care is a significant sector of the economy and needs support to meet the growing and ever changing demand, but looking to federal, state and local governments alone to solve the problem isn't the answer; technology and rethinking our approach is," said Lezama, "Parents who have affordable and available high-quality child care have peace of mind, which means they're more productive, absent from work less, and will stay with their company longer. Children who attend quality child care are proven to have greater success in school, at work and overall be greater contributors to their communities as adults. With a mission of solving the child care crisis, our new headquarters allows us to bring our employees together in the technology hub of San Diego, while providing ample room as we continue to hire top industry talent and quickly scale the company. Just like our platform provides parents, providers and employers with a great experience, making this move will improve efficiency and collaboration while providing an exceptional environment for our team to work and thrive."
The company said new headquarters will showcase the TOOTRiS Quality Child Care Environment Blueprint.
According to TOOTRiS, it is "designed by child care industry veterans as a turnkey solution for providers looking to start their own family child care program. This model will outline to prospective providers how to design, operate and grow their quality child care and early education programs. Child-safe furniture options and decorating ideas will be displayed in addition to dedicated learning spaces such as a literacy corner, block areas, and group play settings. Having a well-designed layout is one of the greatest tools for building the perfect environment for learning and development, and the TOOTRiS model will ensure that providers have the know-how and necessary resources to set up and operate a safe, fun, and educational program for children."