Titan Poised to Buy Huntington Ingalls Yard
Wednesday, March 4, 2020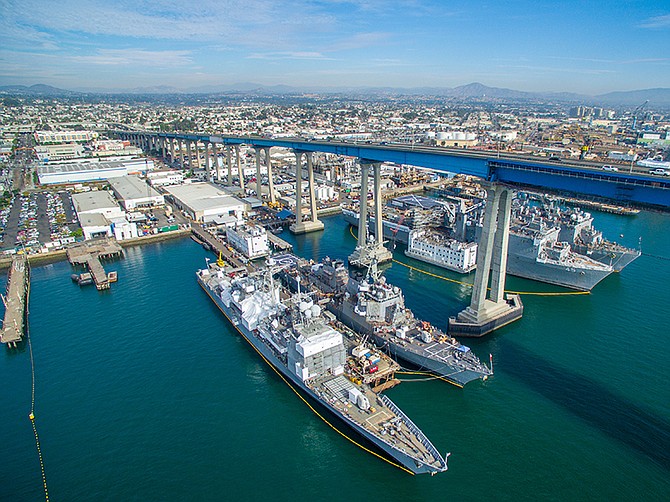 14 acres of land and 17 acres of water area on San Diego Bay. The San Diego-Coronado Bridge passes over it, and U.S. Navy ships undergoing repairs are moored there, often wrapped in protective coverings. Many San Diegans know the place by its old name, Continental Maritime.
"The opportunity to add the San Diego Shipyard to our family of companies is a natural step in our evolution given its strategic location and wealth of talented employees," said Titan CEO Jim Marcotuli in a prepared statement.
Huntington Ingalls is not leaving the business entirely. It will hold a minority interest in Titan.
"We believe this transaction will enable us to leverage complementary capabilities, capacity and facilities to improve efficiencies and better serve the needs of our U.S. Navy customer," said Andy Green, executive vice president of Huntington Ingalls Industries, also in a prepared statement.
A Ship Repair Cluster
With its purchase, owners Carlyle and Stellex get access to San Diego's rich ship repair ecosystem.
San Diego has a very large number of U.S. Navy ships, and the count continues to grow. Four years ago it had fewer than 50 ships. Now the number exceeds 60, according to the 2019 economic impact survey conducted by SDMAC, the San Diego Military Advisory Council.
Such assets need frequent care. Shipyard work ranges from the mundane — the removal of rust and barnacles — to the complex, such as swapping out entire shipboard systems.
The Huntington Ingalls shipyard partakes of hundreds of millions of dollars' worth of contracts along with its neighbors to the south, BAE Systems San Diego Ship Repair and General Dynamics NASSCO.
For example, in early February, the Navy's Southwest Regional Maintenance Center announced that it planned to split $275.1 million in funds among the three shipyards. The money will cover repair, maintenance and modernization to surface ships through March 2021.
General Dynamics NASSCO is more diversified than its neighbors, because it builds new ships in addition to making repairs.
Slightly less than $2 billion in Pentagon funds flowed to the community's shipbuilding sector in fiscal 2019, according to the 2019 SDMAC report.
The three big ship repair firms do business with a constellation of subcontractors in the southern neighborhoods of San Diego, National City and other South Bay communities. The Port of San Diego Ship Repair Association estimates the sector employs more than 10,000 people.
Company Rooted in MHI, Vigor
Titan, the buyer, is an almost-new entity. Owners Carlyle and Stellex created Titan with the merger of two ship repair businesses, Vigor Industrial of Portland, Oregon and MHI Holdings of Norfolk, Virginia. That deal closed in October. Both businesses operate shipyards in several communities.
The Carlyle Group is a prominent global investment firm. Stellex is a private equity firm.
"Our goal is aimed at creating a stronger company of scale, capable of providing differentiated, coast-to-coast services to the U.S. Navy, U.S. Army and other defense, infrastructure and maritime customers," said Tom Rabaut, chairman of Titan, in a statement.
Latham & Watkins LLP is representing Titan in the purchase of Huntington Ingalls' San Diego Shipyard. The law firm's corporate deal team is being led by partners Daniel Lennon and Nicholas Luongo in Washington, D.C.