Forte Biosciences Gets Nasdaq Listing After Tocagen Merger
Wednesday, March 4, 2020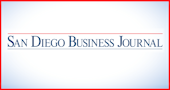 Tocagen — a San Diego biotech that slashed its workforce after its brain cancer therapy failed a clinical trial — is set to merge with Forte Biosciences.
The companies on Feb. 19 announced the all-stock deal. Tocagen's beleaguered stock climbed in the days following, closing at $1.71 a share Feb. 24.
Forte CEO Paul Wagner will lead the combined company, which is pursuing a treatment for inflammatory skin diseases like atopic dermatitis. It will be headquartered in Torrance.
Privately held Forte will go public through the deal, a so-called reverse merger that's a faster way to gain a Nasdaq listing than an initial public offering. As a public company Forte will be able to tap more investors.
In September, Tocagen reported its combo brain cancer treatment in a pivotal clinical trial didn't extend patient survival compared with chemotherapy.
"Following an extensive review of strategic alternatives, we believe that this merger with Forte is in the best interest of Tocagen's stockholders and has the potential to deliver immediate and long-term value to the stockholders," said Tocagen CEO Marty Duvall in a statement.
The merger is expected to close in the second quarter, after investors pump $14 million into the company. The combined company anticipates it will have $25 million to advance Forte's programs.
The U.S. Food and Drug Administration has delayed a decision on whether to approve Heron Therapeutics' postoperative drug that's billed as an opioid alternative.
Originally the FDA was slated to give thumbs up or down by March 26, but now has until June 26. It's unclear why the agency punted.
Heron says its drug, HTX-011, could play a part in reducing dependence on opioids. In clinical trials with surgery patients it reduced pain while hitting safety marks.
Some 80% of patients undergoing surgery are prescribed opioids to help manage postoperative pain, potentially fueling addiction and leaving leftover pills accessible to others in the home.
HTX-011 is a long-acting version of the anesthetic bupivacaine paired with the anti-inflammatory drug meloxicam.
Heron's stock held steady following the Feb. 19 announcement.
"While some might rush to fault [Heron] for approval delays, one only need look at the track record of this FDA Division — which we believe reflects poorly on the agency — to recognize what the company is up against," said Leerink analyst Josh Schimmer.
"This is the division which has been criticized for its ineffectiveness during the entire opioid crisis and has delayed multiple approvals of potentially opioid-sparing analgesics."
In delaying, Heron said the FDA didn't raise clinical or safety issues, and a HTX-011 manufacturing facility received a recommendation for site approval after a re-inspection.
That's significant because last year the FDA cited manufacturing concerns when it kicked back Heron's application for drug approval. Last fall, the company successfully resubmitted.
Heron CEO Barry Quart called the extension "disappointing" in a statement, adding "the FDA indicated that they will try to complete their work in less time."
Yet another genomics startup in San Diego has landed funding.
Arima Genomics on Feb. 24 announced a Series A round, though didn't disclose the investment amount.
The company said its tools shine a light on the genome, useful for academic research and figuring out how a patient might respond to a drug. The financing, according to Arima, will expand its commercialization bid.