Exec Q&A: Victor G. Ramsauer, CEO, LevitZacks
Wednesday, March 4, 2020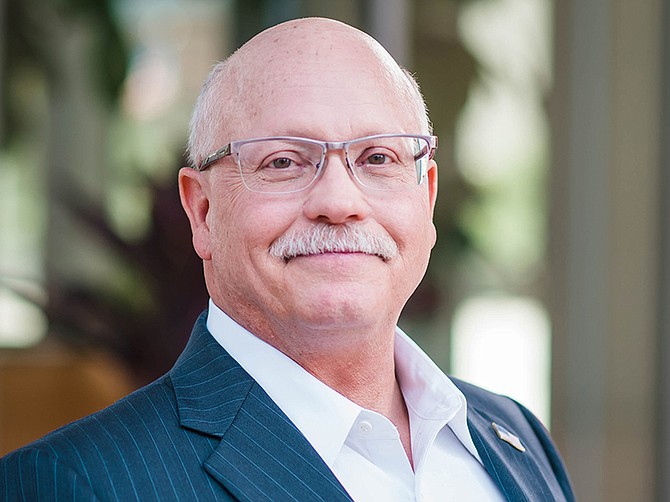 Certified Public Accounting firm LevitZacks recently named long-term President Victor G. Ramsauer its chief executive officer. In his new role as CEO, Ramsauer continues to provide senior leadership regarding business development and strategic planning, and advises clients on deal structuring and negotiation, financial reporting research, and the design and performance of due diligence procedures. With extensive skills in auditing, mergers and acquisitions and general business consulting, Ramsauer has a comprehensive understanding of the government contract market and Federal Acquisition Regulations and works closely with his GovCon clients.
Ramsauer's interest in accounting began early. He helped his mother at her bookkeeping job, and after taking a business class in high school, his life's course was set. Ramsauer holds a bachelor of science in business administration, Major in Accounting, from California Polytechnic University. He's been with the firm since 1985 and derives great satisfaction from solving clients' problems and sees a similar drive in his colleagues across the firm. He believes the team at LevitZacks has the soft skills and technical expertise that clients need. That structure is foundational to LevitZacks' "one firm, one team" culture.
LevitZacks delivers tax, audit and accounting, and business advisory services, and it is celebrating 55 years in business in 2020. The firm has the honor of being named the 2019 #1 Best Small Accounting Firm to Work For in the United States by Accounting Today. This award is in addition to being recognized as one of San Diego's Best Places to Work (for the eighth year) by the San Diego Business Journal.
Is technology a game-changer on all levels of accounting?
Our firm has consistently made an effort to embrace technology. In fact, we went paperless in 2006. Laptops were in the hands of our auditors well before it was standard practice. We are constantly seeking ways to use technology to improve our client service and have recently adopted a number of new technologies. Some of these include:SafeSend Returns to automate the delivery, review and signature process for federal and state income tax returns. Utilizing computerized techniques, including a state-of-the-art-integrated paperless audit and tax software system. MindBridge artificial intelligence software, which uses machine learning to quickly analyze entire data sets and identify risks.
In addition, we manage our schedule request lists and securely transfer documents using Suralink workflow software.
Do millennials require service or services in a different style from baby boomers?
Millennials are focused on having a work/life balance, which we embrace. The culture at LevitZacks supports a strong work/life balance, to make sure the families of employees come first. We have flexible work hours and provide an environment where people feel they truly have a voice in the firm. Our workdays are based around core hours, so our employees can begin and end their day whenever is most convenient for their schedules.
Is there any move toward consolidation in accounting, or the reverse?
We've seen a lot of activity in the area of consolidation in our industry. The regional CPA firms are looking to expand their footprint and are doing it through acquisitions.
How tough is it to hire and retain talent today?
Finding great talent is always a challenge. Our audit and tax teams, through their contacts, have been able to do a lot of the recruiting for us. Many of our hires come from employee referrals. Because of these personal connections, we're able to bring in top-notch employees. You have to have the culture they want to be part of, and our firm is able to attract and retain great talent due to our culture.
We've all heard of the perks in tech. Can jobs candidates in accounting expect to be wooed by employers?
With the high demand for qualified candidates, firms are getting creative with the perks they offer candidates. In our firm, we offer free massages during busy seasons, casual dress every day, a private office for every employee, a sit/stand workstation in every office, snacks and meals, multiple bonus opportunities, realistic schedules, no mandatory Saturdays, a fun committee that plans social activities year round, a community service committee that coordinates ways to give back to San Diego, not to mention above average compensation packages.
Is the industry adopting a less structured workplace where employees can choose to work remotely?
As part of work/life balance, there's a desire for employees to work remotely. We do that with our audit team; that is a shift we're making. It's where the industry is going. Collaboration is key when working on large engagements such as ours, so a fully remote workforce would be a challenge.
Are Big Data and analytics going to have a huge role in accounting?
I think both Big Data and analytics are going to have an increasingly prevalent role in the future of accounting. For example, a scenario is leveraging technology and allowing data analytics to do the base analysis, and then having auditors come in and look at any anomalies. Big Data and analytics are progressing; it's not quite there yet. It will become a key part of the audit and tax teams' tool kit.
How do you see 2020?
Twenty percent of the San Diego economy is driven by the defense industry. We've been recession proof due to the Navy and Marine Corps that are right in our backyard. They are a huge employer in town. I am extremely optimistic that 2020 is going to be a great year, and my clients feel the same.