Drivers — and Putters — Wanted By Platform
Wednesday, March 4, 2020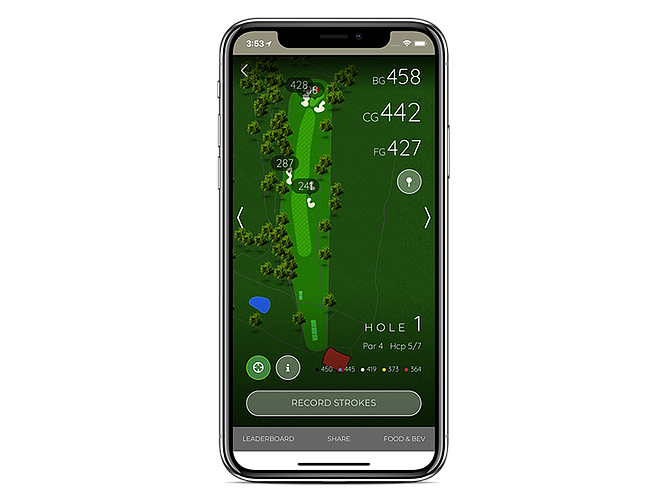 San Diego-based, Gallus Golf, a golf tech startup that develops custom branded apps for golf courses is working with over 800 golf courses, including Torrey Pines, Balboa Park and Mission Bay.
Founded in 2011, by Jason Wilson, the company's customized app provides golfers tee time reservations, GPS course mapping and enables facilities to keep in touch directly with its customers.
Annually, there are around 84,000 rounds played on the North Course and nearly 70,000 on the South at the San Diego's Torrey Pines Golf Course.
To date, the startup is primarily bootstrapped and received a capital investment from The SwitchCase Group, a local private equity firm.
Wilson said the genesis of Gallus Golf originated while playing golf with the SwitchCase Group which specializes in software and app development services. The facility they played on, had an app, unsatisfied with the technology, Wilson partnered up with the small capital firm to introduce a new solution for golf businesses, called Gallus Golf.
"They had done custom mobile app development for some other verticals and the course we were playing had a mobile app," Wilson said, "And I thought, gosh, this is a really good idea — it's kind of a crappy app, but it's a good idea."
The company said, after conducting field research and talking to number golf courses, they were able to service golf courses by building customized branded application-based platforms to help them better engage and stay relevant with their customers or members.
Currently, there are about 83.6 million people aged 45 to 65 in the U.S., including 8 million that are golfers, according to the National Golf Foundation. This age group contributes to 150 million rounds of golf each year and has a golf-related annual spend of $9 billion.
800 Golf Course Customers
To date, Gallus' system is used by 800 golf courses, with facilities ranging from private clubs with a couple hundred members to municipal facilities such as San Diego, with more than 11,000 people having downloaded the app since its inception last year. In addition, fifty courses in Southern California use the Gallus system, Wilson said, including the 12 courses operated by the city of Los Angeles.
One of Gallus Golf's first customers, the Vancouver Board of Parks and Recreation, saw a significant return on investment from the company's push notification feature, the company said.
"Whenever they tried to fill up the remaining tee times, they diligently tracked every time they would use the push notification feature," Wilson said, "They added about $50,000 in additional revenue, in just nine months of using the app — which is more than '10X' of what it costs them for the app."
A Challenging Industry
The days of owners opening a facility and expecting people to show up and pay any price is on its way out, Wilson said. In today's hyper-connected world, the millennial generation has many platforms and businesses competing for their attention. Another unique challenge the golf industry faces is the high barrier to entry. Golfers typically need to fork over cash to buy expensive equipment and a significant time is invested in the sport.
Overall, the golf industry has remained flat over recent years, seeing a decline back during the 2008 recession; it also underwent a strong expansion period during the Tiger Woods era.
To date, there are roughly 24 million golfers in the U.S. and about 15,000 golf facilities in operation in 2019, according to the National Golf Foundation.
Competitive Advantage
Traditionally golf is considered a slow-moving industry, in the past decade, many golf businesses have adopted using email marketing to update golfers and attract them with special offers. However, Wilson said that the main problem is that people are bombarded with spam, making that channel less effective.
"It doesn't matter what business you are in. If you aren't finding a way to reach your customer on their smartphone — you're going to lose," Wilson said, "Whether that's to other things that are grabbing their attention or your competitors that are doing a better job."
Unlike its competitors who offer one-stop services, Gallus Golf is focused primarily on helping facilities deliver real-time communication tools through its quick push notifications.
For example, the tech could be most effective when a facility has extra tee times available, or when there's a frost delay this morning and need to start at a later time, or when you want to alert members that you have new equipment up and ready for sale.
Another competitive advantage of Gallus Golf's system is its online reservation to golfers. The current reservation system allows players to book tee times seven days in advance, starting at 7 p.m. each evening. Torrey Pines, a high-demand golf course based in San Diego, tee times can be difficult to book, within a few minutes, most of the times are gone, Gallus Golf aims to change that.
$2 Million in Revenue
Gallus Golf's business model is a SaaS (software-as-a-service), the company charges the golf course a one-time setup fee and an annual license subscription. In addition, the company also sells additional modules that customers can add-on to the mobile app solution, which in turn drives the company's per-unit revenue.
The company said it's bringing in an annual revenue in the ballpark of $2 million and hopes to see continuous growth as they add more clients and features. Looking ahead, the company said it will focus on new markets to offer its mass customization app solution.
"We've gotten really good at making it (our service) economically feasible for almost any business to have their own custom-branded mobile experience to provide to their customers," Wilson said, "Now, we're exploring what other spaces we can go in, and hopefully disrupt and dominate that as well."