The Evolution Of Retail
Tuesday, March 3, 2020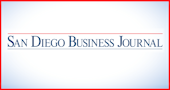 Guess who is bringing more innovation to San Diego? If you said 7-Eleven, you deserve a free Slurpee.
The location at a 3504 El Cajon Blvd. will be opening as an Evolution Store in the coming months.
Realizing retail cannot rest on its laurels; Evolution Stores will be testing a variety of products and services for their compatibility with the 7-Eleven clientele. The company calls them "real-time experiential testing grounds" that are customized to the neighborhoods they serve. The stores will feature Laredo Taco Co. eatery, mobile check out, delivery and much more.
…
Sempra Energy announced full-year 2019 earnings were $1.9 billion, or $6.78 per diluted share, compared with $1.5 billion, or $5.57 per diluted share, in 2018.
"…Our earnings results are a direct reflection of our sharper strategic focus and ongoing execution of our mission to be North America's premier energy infrastructure company," said Jeffrey Martin, chairman and CEO of Sempra Energy.
…
I remember as a child my family had a moving sale which included our complete set of Dr. Seuss books which had helped two boys and their sister learn to read. An older gentleman inquired about the price. Mom told him that she preferred to sell them to someone with kids, who could also learn the delights of reading with the books. The man admitted to collecting stuff. Mom later gave the books away to a mother and two young daughters.
It takes true preciousness for products to reach that level. Dr. Seuss is that special.
San Diego-based Dr. Seuss Enterprises L.P. will be celebrating Seuss' birthday March 2.
The company along with Random House Children's Books, the publishing home of Dr. Seuss books, are "introducing new ways to honor the genius behind Dr. Seuss' beloved characters and books through a variety of events, merchandise, partnerships, and more," the company said. Check the website.
"This annual holiday celebrates how Dr. Seuss books and characters infuse learning with fun, while also giving people of all ages an opportunity to express their love of the Dr. Seuss brand in creative and new ways," said Susan Brandt, president of Dr. Seuss Enterprises
Dr. Seuss Enterprises is a global children's entertainment company.