Coworking Fills Needs of a Variety of Businesses
Tuesday, March 3, 2020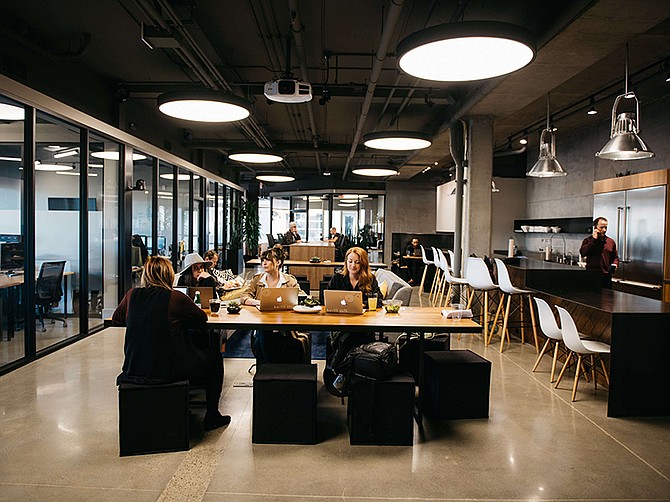 Who needs coworking, anyway?
As it turns out, it's an option that a lot of business people prefer.
Ask Trevor Blair, CEO of Blair Search Partners, who is a tenant at the Downtown Works space at India and B streets. Coworking gives his business a certain flexibility. It also gives it a good image. In addition, the space is a clever way to help the people he places, who might need to keep low profiles during their job searches.
Ask Vivian Sayward, founder of sports apparel maker Vivacity. Sayward might be found at the Hera Hub coworking space in Sorrento Valley. She sees her coworking experience as central to filling in gaps after she left her biotech job to go into business for herself.
She's been at Hera Hub for all eight years of her business's existence.
"It's made perfect sense to me," she said.
Continuing Education
Sayward has a distributed workforce, including social media specialists on the East Coast. As it has in most industries, the business model of fashion has changed in the last decade, she said. "A showroom is not required. We don't own manufacturing. … We work with a distribution company."
In short, she does not need much space.
When she needs to hold meetings, the coworking space is presentable. "What you show is part of your brand," Sayward said.
Hera Hub differentiates itself by being a "female focused" coworking environment.
And it is definitely a workplace. One trend for coworking spaces, notably in the Los Angeles area, is for centers to take on the feel of clubs where members socialize. In some instances, coworking has turned into co-living.
For Sayward, coworking has been short on socializing and long on support. People exchange ideas and best practices. "You learn from each other," she said.
Like many coworking spaces, Hera Hub offers continuing education in business topics.
"I attribute part of my success to being a member of Hera Hub," Sayward said. The community of women around her helped out with marketing, social media and the legal dimensions of running a business.
Room to Grow
Trevor Blair of Blair Search Partners spoke of how well a coworking space accommodates his growing firm.
Instead of occupying one of the many seats in a spacious common area of Downtown Works, Blair Search has a dedicated room. With a window overlooking the street and a balcony, the room is home base for four employees. Quarters are tight, and conversations at the room's center are easily heard at the corner desks.
"We're in our fourth office in the building," Blair said. "Every time we add a person, we change offices." Leaving the room and showing a visitor around the Downtown Works property, Blair pointed out a room that his company outgrew, and a second office that might be good for the company if his head count goes higher.
The coworking environment and the structure of the leases offer a business the flexibility to scale up or down, Blair said.
"We love our dedicated space," he said.
Branding and Benefits
A conference room in the back corner of the floor has about a dozen seats and can accommodate boards of the nonprofits that use Blair for placement services.
The image of Downtown Works fits the brand of the executive search firm. "The brand needs to reflect the gravity of the assignment," Blair said.
The central, downtown location has several advantages. One is that it is located near breweries and eating places where a person can go for a discreet conversation.
Speaking of discretion, a coworking space is well suited for an executive search firm because it offers a certain level of anonymity. There are 40 companies in the coworking environment, Blair said, so a person arriving for an interview might not raise suspicions. "You could be coming to meet with anybody," Blair said with a grin.
People want the prestige of the downtown address, said Candace Vanderbilt, who manages the coworking space as community curator.
Bobby Brannigan, CEO of grocery delivery startup Mercato, told the Business Journal in early 2019 the coworking model relieves him from worrying about myriad details.
"With coworking, a lot of the things you have to think about when you're starting your company, you don't have to think about," Brannigan said at the time. "Why should we think about the internet being up, or the janitor cleaning your office? You don't have to deal with that stuff, and it's easy to scale up."
Coworking is good for those occasions when a home office or the corner coffee shop just won't do, Sayward said. There are "a lot more distractions" in a coffee shop, she said.
Having a support system on the sometimes lonely road of entrepreneurship is essential, she added.
"Support is so invaluable."