In Tight Market, Cos. Secure Space Even for Possible Future Needs
Monday, March 2, 2020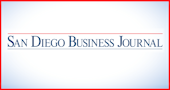 Demand for high tech office space in some parts of San Diego County has grown so intense that some high-tech companies are buying or leasing property and banking it for anticipated growth.
Spurred in part by Apple's move into San Diego County, companies are "almost taking down space defensively," said Brett Ward, a managing director of the commercial real estate brokerage Cushman & Wakefield in San Diego.
"The supply side is tightening up. Our demand side is increasing," Ward said.
Apple moved into 97,000 square feet of offices in Eastgate in the fourth quarter of 2019 and recently leased an additional 360,000 square feet of space in Eastgate that it expects to occupy in 2021, according to Cushman & Wakefield.
Top office submarkets for tech companies are Eastgate and Sorrento Mesa, with demand for space nearly outpacing available space in Eastgate.
"Eastgate vacancy is almost nonexistent at 2.6 %," Cushman & Wakefield reported.
In 2019, Eastgate overall attracted more high tech tenants than any other submarket — 630,322 square feet, according to Cushman & Wakefield.
That accounted for 43% of the high-tech office rental for the year countywide, and 49% of leasing activity in central San Diego submarkets.
Sorrento Mesa — home of Qualcomm — has more available space, but there too, what's available is quickly snapped up.
Cushman & Wakefield reported that 2019 "was a banner year with respect to leasing velocity and overall net absorption" in Sorrento Mesa.
Between 2010 and 2019, nearly 2.8 million square feet of office space in Sorrento Mesa was leased to high tech companies.
Repositioning
Demand for tech space in Sorrento Mesa has prompted many building owners to renovate, or reposition their buildings in the jargon of commercial real estate companies.
"In the past three years, the submarket has undergone over 1.5 million square feet of office repositions and over 1.2 million square feet of lab conversion with an additional 750,000 square feet planned," Cushman & Wakefield reported.
Among other submarkets, Carlsbad had 110,442 square feet of office space leased to high tech firms in 2019, UTC had 88,956 square feet, and Mission Valley had 80,344 square feet.
San Diego of late is drawing increasing interest from high-tech companies in the San Francisco Bay Area, said Jolanta Campion, director of research for Cushman & Wakefield in San Diego.
"We are an attractive market because of lower cost and growing talent for tech compared to established tech markets," Campion said. "You can actually afford to live here if you are in the tech industry."
The average high-tech job in San Diego comes with annual wages of $129,900 compared with $74,600 for the average among all occupations, according to Cushman & Wakefield.
Employment in high-tech jobs has grown 26% since 2010, Campion said.
By the end of 2019, San Diego was ninth in the nation in high tech jobs, according to Cushman & Wakefield, with high tech jobs accounting for 8.9 % of the region's overall employment.
Not coincidentally, the region has high concentration of residents in their 20s and 30s — the so-called millennials.
Millennial Population
Nationally, San Diego ranked seventh in the concentration of millennials as a percentage of its population, with Austin at the top where millennials are 26% of the population.
"They are the first digital natives," Campion said, and they provide a ready source of talent for high-tech companies.
Going into 2020, millennials were 24 % of the population in San Diego County.
San Diego also has a well education pool of talent, with 39 percent of the population earning bachelor degrees or higher, according to Cushman & Wakefield.
"Students with tech degrees are graduating in higher numbers," Campion said.