As Ten Year Leases Run Out, Law Firms Find Tight Markets
Monday, March 2, 2020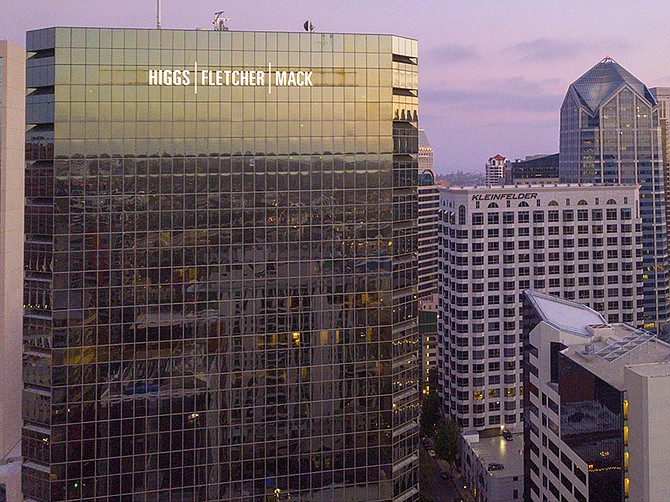 Lawyers are being pushed out of some of the most desirable neighborhoods for new office space in San Diego County by developers and building owners catering to life science and biotech tenants.
"The problem is, there are not a lot of places for them to go," said Misty Moore, a managing director of the commercial real estate brokerage JLL in San Diego.
"UTC is completely full. Del Mar Heights is pretty full. Those have always been the top markets for law firms.
At the same time, most new office construction is geared toward life science and high-tech companies.
The new buildings tend to have wide open floor plans, which don't work well for law firms that need private offices to meet in confidence with clients.
"It's almost a double whammy," Moore said.
As if that wasn't enough, because the overall office market is so tight, law firms are facing higher rents when their leases run out or as they look to expand or relocate. The median asking rent in 2019 was nearly $43 per square foot.
A Little Bit of Sticker Shock
Typically, law firms sign leases for about 10 years, and 10 years ago, the Great Recession was still in force and rents were low and there was plenty of office space available.
"There's a little bit of sticker shock for law firms that have been in their space for a long time," Moore said. "They all got outstanding deals in 2010 because the economy was in such bad shape."
In 2020, "It's the polar opposite," Moore said.
Of all the submarkets in the county, downtown San Diego is the softest, according to JLL, with more of the traditional office space available than in UTC and Del Mar Heights.
Along with Del Mar Heights, downtown also has the highest concentration of law firms, but some firms prefer UTC and Del Mar Heights to be closer to the life science and tech companies they serve.
"I've got some law firm clients who are in UTC and Carmel Valley, even though you can get space for a lot less downtown, they don't want to go back down there," Moore said.
On the other hand, some of the region's long-established firms prefer downtown.
Higgs Fletcher & Mack in late 2019 expanded their offices at 401 W. Ash St and put their name across the top of the north-facing side of the building.
The firm leases four full floors.
At the time, Managing Partner Steve Cologne said the firm stayed downtown because it's always been the firm's base and is home to state and federal courthouses and the county bar association.
Coworking Taking Space
Nationally, JLL reported that the rapid growth of coworking also is putting the squeeze on law firms, taking up office space that might otherwise be available to lawyers.
Also last year, Stoel Rives moved its offices downtown from El Camino Real to 501 Broadway.
Managing Partner Brian Neese said the building's proximity to the courts, government offices, the financial district and the overall downtown scene made it attractive.
On the plus side, Moore said law firms need less space than they did 10 or 20 years ago, partly as a result of new technology that means they no longer need massive law libraries and function with fewer people.
"They don't need legal secretaries to type everything they did back in the day," Moore said.
According to JLL, San Diego law firms have gone from requiring 1,000 square feet to 1,200 square feet of office space per lawyer to 900 to 1,000 square feet and see the optimal size at 700 square feet to 800 square feet per lawyer.
Law offices also have become more spartan, Moore said.
"They're doing well, but they're not showing it in their real estate," Moore said. "They're spending their money in the front-facing, meeting space — conference rooms. They're not going all out with the wood you would have seen 20 years ago in the partners' offices."