S.D. Takes a Top 10 Spot For Rent Growth
Originally published March 2, 2020 at 2 a.m., updated March 2, 2020 at 2 a.m.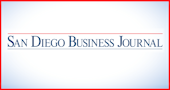 Apartment rents are growing so fast in San Diego County that the region in January was ranked among the Top 10 in the nation when it comes to rent growth by a national apartment listing firm.
RealPage also ranked San Diego monthly rents as among the highest in the nation at $2,044 in January for a one-bedroom apartment — more than $600 above the national median rent of about $1,400.
"Last year or so, San Diego has been doing pretty much the same as a whole. Then in December and January, rent growth was up 4% or so, which moved it into the Top 10," said Greg Willett, chief economist at RealPage.
Despite rising rents, RealPage reported that occupancy rates in San Diego County held steady in January at 96.2 percent.
Willett said there was no clear cause for the jump in rents in December and January, although he said at least some of it could be due to the region's strong employment.
"San Diego's employment growth had accelerated pretty significantly in the last half of 2019," Willett said. "The metro region had been producing around 20,000 jobs on an annual basis. Suddenly, at the end of the year, it was around 30,000. That would suggest some pretty strong household formation. That would give (apartment) owners confidence to push rents a little bit."
Topping the RealPage's list of Top 10 metro markets for rising rents was Phoenix, where rents rose 8 % in 2019.
"All other spots are between 4% and 5%," Willett said.
The outlook for the rest of 2020 is that rents will continue to rise.
"We think maybe it will slow down a little bit from where it is right now, but it will still be pretty significant, 2% to 2.5%.
Another rental tracking firm, Apartment List, reported that rents are on the rise throughout the region.
"Over the past year, rent increases have been occurring not just in the city of San Diego, but across the entire metro," according to Apartment List.
Of the 10 cities that Apartment List follows, eight have had rent increases year over year.
The exceptions were National City, where rents dropped 1.8 percent year over year, and El Cajon, where rents fell near 1 percent.
The highest increase was in Carlsbad, where February 2020 rents were 4.8 percent higher than they were in February 2019.
Rising rents have made the region a prime spot for apartment investors.
Marcus & Millichap, a commercial real estate brokerage, said demand for apartments is expected to remain strong, buoyed in part by high home prices which push would-be buyers into the rental market.
Demand for investors is especially strong for Class C apartment complexes, according to Marcus & Millichap.
"Tight vacancy and strong rent growth in Class C sector support an active sales market. Here, $1 million to $4 million trades involving smaller assets dictate overall deal flow," Marcus & Millichap reported.
Areas around Balboa Park "will remain highly targeted by local high net-worth individuals as these trendy neighborhoods feature large concentrations of young professionals," the firm said. "First-year returns on sales in this location range from the mid 3 to 4 %, with well-located complexes trading for more than $300,000 per unit."
San Diego County is "a market that investment capital tends to like," said Willett of RealPage. "We don't necessarily see that changing, but there is that caution flag, really across California with the introduction or expansion of rent control. That does scare off some potential investors."
A November 2020 ballot measure would limit landlord's ability to raise rents to market rate when a tenant moves out and would extend rent control in some cases to single family homes.
Even if that doesn't pass, the big worry is that rent control measures will keep popping up on the ballot, Willet said.
"Are the rules going to change again? It's just a more uncertain environment than you see in a lot of other places," Willett said.