Blue Diego Investment Group Acquires Aira Tech Corp
Monday, March 2, 2020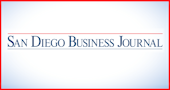 Blue Diego Investment Group announced the acquisition of Aira Tech Corp.
San Diego startup Aira, offers a technology-based service for blind people and people with limited eyesight. It pairs them with remote agents who help users navigate through the world with the help of a wireless camera and wireless communications.
"Aira has been built by incredible people; from its Agents to its Explorers, from its partners to its employees. I am thrilled to continue this legacy. This investment, coupled with our laser focus on blind and low vision customers, presents us with an opportunity to continue to deliver world-class Aira service for our community," said managing director of Blue Diego Investment Group, Troy Otillio.
Aira currently operates around the clock in the US, Australia, Canada, and New Zealand and works with national blind consumer organizations including National Federation of the Blind, the American Council of the Blind, among others.
Blue Diego Investment Group and Aira Tech Corp are privately held companies. Terms of the transaction were not disclosed.