Tijuana's Telefonica Gastro Park To Open San Diego Location
Sunday, March 1, 2020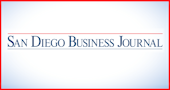 Telefonica Gastro Park, a Tijuana-based collective of food trucks, small eateries and breweries, is working on securing a location in San Diego.
According to an interview with founder Antonio Gamboa on KPBS' "Only Here" podcast, he is in the middle of contract negotiations with a location in S.D., dubbed Telefonica Norte. Gamboa said, for Telefonica Norte, he plans to bring chefs from Tijuana to San Diego and hopes to make the space just as community-oriented as the Tijuana headquarters.
Telefonica Gastro Park was founded in 2014 and has become a cross-border food destination, according to reports. It is located in a warehouse type of venue in downtown Tijuana, with outdoor and indoor space, and features eateries, breweries, coffee shops and art spots.
Travel & Hospitality reporter Mariel Concepcion can be reached at mconcepcion@sdbj.com or 858-634-4625.