San Diego-Based Coastal Payroll to Acquire Paystar
Sunday, March 1, 2020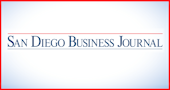 San Diego-based Coastal Payroll announced its planned acquisition of Paystar Payroll.
Coastal said the purchase of Bay Area-based Paystar will allow it to expand into Northern California.
Terms of the deal were not announced.
According to the company, "Coastal will acquire Paystar Payroll over the coming months, with a goal of full integration this summer, after which clients may notice a number of improvements and additional services."
Coastal said it currently has 90 employees and thousands of clients nationwide being provided with a full range of human resource management services. The company said it had $11 million in revenue last year.
"…Paystar is an outstanding company that shares our focus on providing warm, supportive, world-class payroll and HR services to businesses," said Jonathan Gallagher, CEO of Coastal Payroll. "With our forces combined, we can bring the 'human' back to human resources across California and the entire U.S."
Coastal Payroll launched in 2007.