Qualcomm Appears to Be in Pole Position for 5G Rollouts
Sunday, March 1, 2020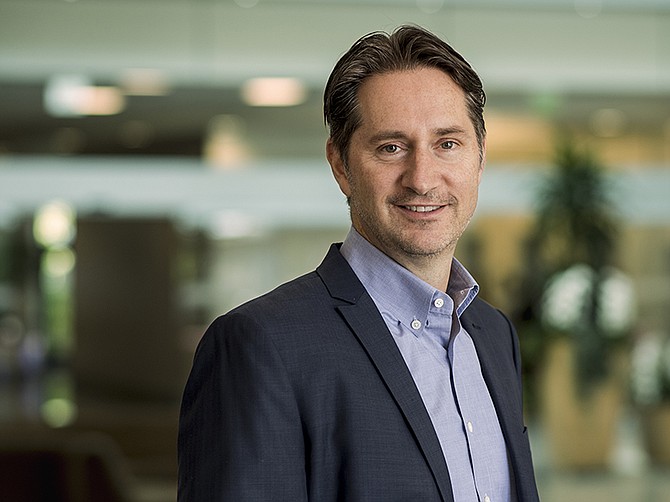 Qualcomm's focus for 2020 includes a major rollout of 5G technology worldwide, as well as a number of new products aimed at improving connectivity for cars, with capabilities in the areas of safety, onboard information and entertainment and vehicle performance monitoring.
"We see 2020 as a major transition point" for 5G, said Pete Lancia, Qualcomm's vice president of marketing, with some 200 million 5G-enabled smartphones expected to be sold worldwide this year. All of the 5G devices will use Qualcomm's licensed technology, said Lancia, and some phone makers will also use the San Diego-based tech giant's chipsets.
5G will be scaled up at different price points and in various regions of the world, Lancia said, including China, Japan, South Korea and Europe.
"We are strongly positioned to capitalize on those opportunities," he said.
Qualcomm in the Lead
Qualcomm continues to enjoy a lead of about 18 months in relation to its competitors in the 5G market, said Patrick Moorhead, president and principal analyst with Moor Insights & Strategy, based in Austin, Texas. By this fall, said Moorhead, Apple and other smart-phone makers will be launching 5G models for premium and mid-range lines.
"I think their prospects are bright," said Moorhead, noting that Qualcomm will see a major increase in revenue with the shift from 4G to 5G, in part, because it has made acquisitions that give it a larger share of the 5G market for antennas and filters used in 5G phones.
Consumers will benefit from 5G through improved performance of their smart phones including faster data speeds and higher quality video streaming, much the way 4G phones led to a better experience streaming digital music, Lancia said.
"There will be no compromise when you have 5G," he said.
More than 45 wireless operators around the world have launched 5G networks, and 340 more operators are investing in 5G technology, said Lancia.
The company is also working to leverage its core mobile technology to other industries, such as manufacturing and automotive, said Lancia, where it can be used to connect many types of equipment.
An example came in January at the annual Consumer Electronics Show in Las Vegas, where Qualcomm unveiled a number of new products in the auto connectivity sector, a sphere that Qualcomm has inhabited for nearly two decades.
Snapdragon Ride
Among the products announced at CES was Snapdragon Ride, billed as an advanced, scalable autonomous driving solution, collaboration with General Motors to work on auto connectivity applications; and a cellular vehicle-to-everything, or C-V2X, platform, which enables cars to be connected directly to other cars, roadside infrastructure and pedestrians, without the involvement of a cellular network.
Qualcomm has been testing its ADAS technology, which stands for advanced driver-assisted systems, on San Diego's streets, and the company offered a demonstration of its technology at the CES in Las Vegas. A vehicle under automated control got on the highway, drove for several miles, and then returned, said Lancia. A driver was present but did not touch the steering wheel or gas pedal during the demonstration.
Lancia said the company expects its autonomous driving technology to be on the road by 2023.

Setting Qualcomm Apart
Differentiating its technology from its competitors in the autonomous driving space, such as Nvidia and Intel, said Lancia, is that Qualcomm's technology has greater power efficiency, and can be adapted to vehicles in the $20,000-$25,000 price range, while other systems are designed for higher end vehicles.
Moorhead said he took part in the demo at CES. The driver had the controls until the vehicle left the parking lot, and then the self-driving feature was turned on as the car navigated onto the highway, passed other cars, and got off the highway.
"It seemed very smooth to me, smooth and safe," Moorhead said.
The Five Levels
According to Moorhead, self-driving vehicles have five levels, ranging from 1, in which some assistance is provided to the driver, up to 5, in which the vehicle is fully autonomous. The Qualcomm demo, he said, was at level 3.
Qualcomm has been operating "stealth mode" as it developed its ADAS technology, said Moorhead, and he said the company was further along than he expected at the CES. He said he was also surprised to see them show up with a customer, General Motors.
"No auto maker will risk their reputation by aligning with any technology company whose technology isn't good. It's a safety issue. That to me shows a very high level of confidence," Moorhead said.
In addition to its ADAS system, Qualcomm's Snapdragon infotainment platform for cars is being used by 18 automakers, Lancia said. The company has about $7 billion worth of contracts in the pipeline for telematics, or auto connectivity, and infotainment systems.
Societal Changes
New auto connectivity technology, such as ADAS, will have profound impacts on society when it is adopted on a broad scale, said Jacob Doiron, a lecturer at San Diego State University's Fowler College of Business.
Not only will driving become safer, said Doiron, but road systems will be more efficient, reducing the time lost to traffic congestion.
"It's kind of incredible to think about all the wonderful impacts it will have," Doiron said.
While driverless cars are still a way off, and there are technical, regulatory and legislative hurdles, the technology can potentially transform how we get around, and how we do commerce as well. Self-driving vehicles will be able to move freight, provide public transportation and may do away with the need for privately owned vehicles.
"So far, the results are incredibly promising," Doiron said.
Moorhead said he is convinced the technology is already there for self-driving cars. What's missing, he said, are the rules of the road.
"My biggest question is about regulation. Who's going to let this happen?" he said.