Kratos Defense Revenue Hits $718M, Missile Program Subcontract Eyed
Sunday, March 1, 2020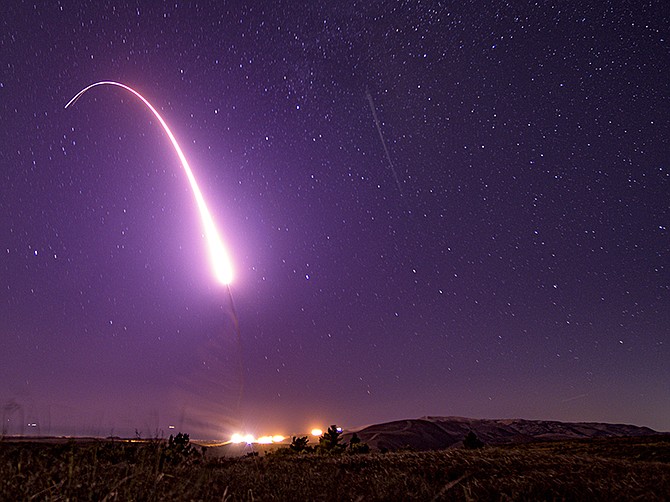 Kratos Defense & Security Solutions Inc. reported annual financial results and a significant new contract during the week of Feb. 24.
The defense electronics builder, which is getting more heavily into drones, reported annual net income of $12.5 million on total revenues of $717.5 million. In 2018, the business swung to a $3.5 million loss and reported total revenues of $618 million.
Kratos also announced that it will be part of the U.S. Air Force effort to replace its aging Minuteman III nuclear-tipped missiles. It will be a subcontractor to Northrop Grumman Corp., the prime contractor on what the Air Force calls its Ground Based Strategic Deterrent program. The announcement came Feb. 26.
Though the contract has not yet has not been awarded, Northrop Grumman is the sole bidder. In August, Northrop Grumman broke ground on a headquarters for the program in Utah.
Kratos said it will provide vehicle transporters, including highly complex missile transporters, payload transporters and subsystems. The business' C5ISR Division will do the work. The initials stand for Command, Control, Communications, Computing, Combat and Intelligence, Surveillance and Reconnaissance.
Financial terms of the deal were not disclosed.
The Entire Organization's Focus
Tom Mills, president of Kratos' C5ISR Division, said Kratos was "extremely proud" to be Northrop Grumman's selection. "Kratos' efforts will help preserve strategic deterrence against our adversaries by modernizing aging ICBM [intercontinental ballistic missile] infrastructure. GBSD will remain a vital part of our national security for many decades."
"All of Kratos is proud to work with Northrop Grumman, one of our nation's and industrial base's most important providers of solutions for the security of the United States. This opportunity, which our entire organization will focus on and support, is expected to be one of Kratos' most significant future programs," said Eric DeMarco, Kratos' CEO.
The Air Force plans to put the new missiles into service by 2029.
Revenue Growth Seen
Kratos reported its earnings two days earlier, on Feb. 24.
During the fourth quarter, which ended Dec. 29, net income was $3 million on total revenue of $185.1 million. The year-ago quarter brought net income of $4.7 million on total revenue of $164.4 million.
For the full year, Kratos' Unmanned Systems Division reported revenues of $161.4 million, an increase of $28.5 million, or 21.4%, over full year 2018 revenues of $132.9 million.
One quarter of Kratos' business now comes from unmanned systems.
The XQ-58A Valkyrie and X-61A Gremlins are two of the unmanned air vehicle programs Kratos is working on. The former is expected to be a companion to manned jets. Kratos reported that it has initiated a production plan for 12 Valkyries, and plans capital expenditures of $15 million to $17 million on the project.
The latter drones, the Gremlins, are being designed to travel in swarms, and to be reusable.
2019 also saw Kratos acquire Florida Turbine Technologies, a company that builds small jet engines. With help from the acquisition, Kratos achieved a 16.1% jump in annual revenue to $717.5 million. Organic growth during the year came to 7.6%.
Looking ahead, Kratos forecasted 2020 revenue of $740 million to $780 million. Adjusted EBITDA is expected to be in the range of $72 million to $78 million. The abbreviation is short for earnings before interest, taxes, depreciation and amortization.