Flock Freight Raises $50 Million
Sunday, March 1, 2020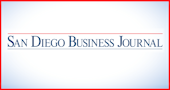 San Diego trucking tech startup, Flock Freight, announced that it raised $50 million from California tech investors. The round was led by Santa Monica-based GLP Capital Partners and San Francisco-based SignalFire.
The investment is one of the largest in the San Diego startup companies' scene this year, following two back-to-back $60 million rounds for DNA tech companies Element Biosciences and Omniome.
Flock Freight sells software that helps shippers and carriers move products more efficiently.In particular, solution lies in a digital AI-driven marketplace that pools less-than-truckload (LTL) and partial-truckload (PTL) freight shipments so they can be shipped via a full truckload service.
The company previously raised $18 million in late 2017, the investment led by Google Ventures.
With the new capital, the company said Flock Freight plans to double its 65-person Solana Beach staff this year.