Device Cos. Report Solid Earnings
Sunday, March 1, 2020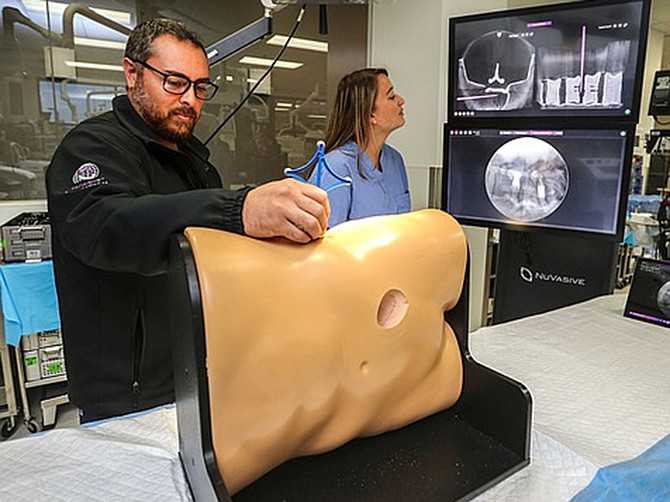 San Diego's medical device sector in February saw another spate of upbeat earnings reports, led by a diabetes company.
Dexcom — which makes a diabetes monitoring device that doesn't require blood draws for calibration — recorded $462.8 million in fourth quarter revenue, a 37% year-over-year increase.
The technology encompasses a patch worn on the abdomen that in real time beams glucose readings to a smartphone. Dexcom is penetrating international markets and domestic ones, like Medicare.
Quarterly net income came to $92.7 million, versus a net loss of $179.7 million during the same period a year earlier, according to the results. That said, the comparison comes with a major caveat.
Dexcom's net income in the fourth quarter of 2018 was dragged down by a $217.7 million charge stemming from an amended agreement with Verily, the life sciences spinout of Google parent company Alphabet.
Verily is helping Dexcom build less expensive and smaller devices.
"We have taken significant steps to prepare the business for long-term growth and believe we are well-positioned as we enter 2020," Dexcom CEO Kevin Sayer said in a statement.
Keith Speights with the financial publication the Motley Fool concurred with the assessment, saying the company's financial forecast bodes well.
Dexcom expects revenue of $1.725 billion to $1.775 billion in 2020, which would be a 17% to 20% increase from 2019.
"When you're hot, you're hot," Speights said. "And Dexcom is hot."
Tandem Diabetes
Dexcom collaborates with Tandem Diabetes Care, another local company, which makes touchscreen insulin pumps, called t:slim X2.
Tandem recorded $98.2 million in quarterly sales, compared to $69.1 million in the fourth quarter of 2018, per Feb. 24 results.
Net income was $2.7 million in the fourth quarter — or $1 million less than the same period a year earlier, according to the company, which says sustained profitability is a goal.
"As we look to the year ahead, we'll be working to bring the benefits of our t:slim X2 systems to more people with diabetes worldwide, while advancing our robust product pipeline, furthering our scalability efforts and driving the company to sustained profitable growth," CEO John Sheridan said in a statement.
That pipeline includes software that automatically delivers insulin to Type 1 diabetes patients to prevent blood sugar levels from going too high or low. Last month, the FDA approved this system.
In 2020, the company forecasts $450 million to $465 million in sales, which would be 24% percent to 28% greater than 2019.
Widely viewed as circling the drain a few years ago, Tandem turned into a comeback story by way of repeat customers and first-of-its-kind technology.
ResMed reported $736.2 million in quarterly revenue, a 13% year-over-year increase, thanks to increased demand for its masks and software aimed at breathing disorders.
The company logged $160.6 million in quarterly income, a 29% increase over the prior year period.
Margaret Kaczor, an analyst with William Blair, in a research said both the company's new and legacy masks are selling well. ResMed is also strong in software-as-a-service, which among things, helps the company monitor patient compliance.
The company's core business is treating sleep apnea. ResMed believes more than 900 million people worldwide are stricken by the disorder, and the majority haven't been diagnosed, representing a company growth opportunity.
"We continue to benefit from strong market dynamics," CEO Mick Farrell said during an earnings call.
NuVasive
Rounding out the major medical device firms in San Diego, NuVasive recorded $29.9 million in fourth quarter net income. The prior year period saw net income of $12.2 million.
NuVasive developed lateral spine surgery techniques and products.
The company's revenue during the quarter rose 7% year over year to $310.4 million, according to results posted Feb. 24.
Despite the gains, NuVasive's stock ticked down, closing at $70.44 a share on Feb. 25, which could have been related to a broader market pullback.