Cosmetic Surgery Centre 'Partners' With Patients
Sunday, March 1, 2020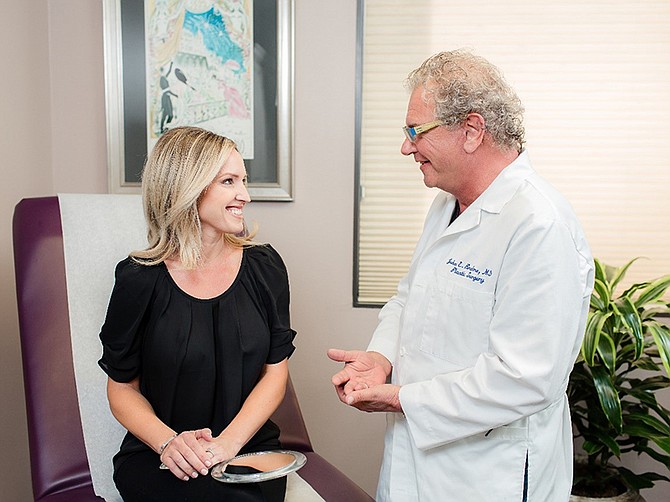 According to a 2019 report released by the American Academy of Facial Plastic and Reconstructive Surgery, cosmetic procedures have increased by 47% since 2013. The study suggests the demand for cosmetic surgery and non-surgical treatments has increased because of millennials' fixation with selfies and self-care.
But even before the internet was invented — and way before Botox became a thing — one local cosmetic surgery center, La Jolla Cosmetic Surgery Centre Inc., has been taking advantage of America's booming plastic surgery trend.
'Founded in 1988 by Dr. R. Merrel Olesen, formerly head of plastic surgery at Scripps Clinic, La Jolla Cosmetic Surgery Centre Inc., or LJCSC, claims to be the oldest all-cosmetic plastic surgery group practicing in the United States, according to the company. Offering most cosmetic surgery procedures for women and men, including facelifts, nasal surgery, body contouring, Liposuction, tummy tucks and breast procedures, as well as non-surgical ones such as facial fillers and CoolSculpting, LJCSC's revenue in 2019 was $18 million, according to the company. In 2020, that number is projected to increase to $20 million.
Surgical and Non-Surgical Procedures
Marie Olesen, LJCSC's CEO and wife of Dr. Olesen, said LJCSC is unique because, in offering both surgical and non-surgical cosmetic procedures under one roof through a group practice, it is able to compete with not just plastic surgeons, but also dermatologists and medical spas.
"We think LJCSC's special strength is that we offer the full spectrum," she said, adding that one of its most popular services right now is the "Mommy Makeover", which is a combination of vaginal rejuvenation surgery, HD Lipo, facelifts, noses and eye lifts. "What this means for patients is we can meet their objectives with the procedures, treatments and technology best suited to their needs and desires."
According to the 2018 "Plastic Surgery Statistics Report" conducted by the American Society of Plastic Surgeons, $16.5 billion was spent on cosmetic procedures in the United States that year. Breast augmentations were up 4% from 2017 at 313,735 procedures in 2018 and, on the minimally-invasive side of things, botulinum toxin Type A, also known as Botox, was also up 4% with 7.4 million procedures. Olesen said at La Jolla Cosmetic Centre, which services thousands of patients a year, services on the lower price end include breast augmentation starting at about $7,000 and brow lift at $5,500.
Anne Marie McNeill, president of Newport Beach Dermatology and Plastic Surgery, said she can appreciate La Jolla Cosmetic Centre's approach to communication with its patients.
"Many plastic surgeons are technically very good and achieve excellent results but aren't good at having a great website or communication with their patients," she said. "This practice has managed to put together the magical combination of being consumer friendly by having great communication with patients and top-notch surgical care."
The Training
McNeill added that what also stands out to her about La Jolla Cosmetic Centre is that all of its doctors are board-certified in plastic surgery.
"There are many other certifications and credentials that other doctors will obtain in order to do breast lifts, tummy tucks and face lifts," she said. "In my experience and opinion, the training and expertise required to become board-certified in plastic surgery is dramatically more complex and difficult, and leads to superior care and results. This training is what I would want when looking for a surgeon to take care of me or one of my family members."
It is also LJCSC's focus on education that has kept the practice growing, said Olesen.
Almost immediately after its founding, Olesen said she began to survey LJCSC patients — this was before the internet) and found that many felt unprepared mentally and emotionally for surgery. So, with the help of her husband and associate Dr. Lori Saltz, Marie Olesen set out to put systems in place to better educate and inform its clients about the LJCSC services and procedures. This included a massive patient-education project that took almost five years and resulted in Olesen founding a software company, through which she shares these same programs with thousands of plastic surgery practices and millions of other patients, she said.
"The surgery experience is new to most patients (and)… education empowers patients, increases compliance and reduces anxiety and risk," she said.
According to Olesen, patients need to know they will be safe. Surgery is a big, complex decision. Olesen says they (patients) should feel like they "are partners in the surgical journey."
As a result of helping patients make informed decisions, satisfaction within LJCSC increased significantly, Olesen said.
Additionally, Dr. Olesen's emphasis on teamwork, having a group of professionals working together to create great patient experiences early on has also helped set LJCSC apart, said Olesen. She credits this for the company's staff retention, averaging eight years, with many of its staff working for LJCSC for more than 10 years, she said.
'Cosmetic Surgery for Dummies,'
In 2005, the "For Dummies" reference books series publishers reached out to the Olesens to write "Cosmetic Surgery for Dummies," a guide through procedures, which candidly addresses both the benefits and the risks of cosmetic surgery. LJCSC has also won numerous awards, said Olesen, including being featured as one of the "Top 100 Global Aesthetic Leaders" in the international MyFaceMyBody Awards.
LJCSC was started when Dr. Olesen saw a need for a practice devoted to the unique needs of the cosmetic patient through better services, environment and staffing, said Olesen. Using his own personal savings, Dr. Olesen opened the practice with a certified operating suite using board certified anesthesiologists and properly trained operating room staff, nurses and administrative staff, she said. In terms of the clinic, Olesen said his focus was in creating privacy, especially for consultations and fee quotes.
Home-Like Environment
"The physical environment was more like a home, intended to be comfortable and reassuring," she said. "We determined that we would be the 'Nordstrom' of plastic surgery. We wanted to attract a broad range of patients from every walk of life and to care for them in a beautiful environment that would enhance their experience… (Dr. Olesen's) thinking was very much ahead of its time."
Initially, many of its patients came from newspaper advertising and some magazine ads, said Olesen, adding that, for a few years, LJCSC also had a series of infomercials run on cable. But when the internet became more popular as a marketing tool, the practice launched a website, ljcsc.com, she said. On its site, LJCSC has pricing listed for transparency and offers a number of payment plans, said Olesen, adding that most of its patients are San Diegans, with a small number of clients coming from other states and other countries. Today, LJCSC uses a variety of other media, including radio and billboards, she said.
LJCSC now has 45 employees and offers an array of cosmetic surgery and non-surgical treatments, said Olesen. And, while it has a strong foundation and reputation, Olesen said it still faces its share of hardships. In fact, she said the hardest part of running the business is staying in sync with changing consumer needs and expectations.
"There are many new procedures and techniques that must be vetted and embraced…" she said. "We don't necessarily offer the trendy procedures until we know they are proven." Dr. Olesen grew up in Northern California before moving to La Jolla in 1970, said his wife. He was double board certified, first in ear, nose and throat (Columbia University) and later in plastic surgery (University of Michigan). He was the head of plastic surgery at Scripps Clinic for eight years prior to founding LJCSC. Marie Olesen grew up in San Diego and graduated from San Diego State University with a degree in public administration. She is also the founder of a physician review company, RealPatientRatings.com, which helps consumers make informed decisions on physicians and providers by using verified ratings and reviews.
Marie Olesen said LJCSC continues to flourish.
She said as other senior surgeons retire, the practice is bringing in the next generation of practitioners. In 2018, LJCSC hired Dr. Hector Salazar-Reyes. Now, Olesen said LJCSC is actively looking for another plastic or facial plastic surgeon as its current surgeon, Dr. Ervin Wheeler, prepares for retirement.