Anokiwave on the Move With the Proliferation of 5G
Sunday, March 1, 2020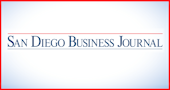 The first week of February was a time of transition for Anokiwave, as employees moved to new quarters in Sorrento Mesa with three times the area of their old space.
The business now has 16,000 more square feet in which to spread out. Part of it is laboratory space, where the business can test its products: integrated circuits and antennas.
"We are growing very fast," said Deepti Jain, the business' cofounder.
Anokiwave designs and sells chips for wireless communications — notably the new 5G standard. The chips are among the electronics in the small cell sites being deployed on lampposts and the sides of buildings by carriers such as Verizon, AT&T and T-Mobile.
In addition to telecom, Anokiwave sells into the satellite communications market as well as aerospace and defense market, which has long used the technology known as "millimeter wave."
Millimeter wave is a set of radio waves higher than the frequencies known as VHF and UHF.
"It's a large market today and it's going to get even larger," said Alastair Upton, chief strategy officer for the company.
Double-Digit Growth
Privately held Anokiwave does not disclose revenue. It has been growing at double-digit rates over the last several years and is profitable, said Upton.
The business has 110 employees in several cities. Some 46 work in San Diego. The rest are spread across offices in Austin, Texas and Billerica, Massachusetts, outside Boston. Both locations are design centers. Anokiwave also has a sales office in Taipei, Taiwan.
Anokiwave last moved its San Diego office in February 2017, when it doubled its space. A few years ago it expanded its office in the Boston area. Like San Diego, Boston offers a specialized defense and aerospace-oriented talent pool, not to mention prestigious universities.
Anokiwave announced in late February that it released its third generation of chips supporting 5G millimeter wave, in cooperation with GlobalFoundries. It said the chips are available in high volumes.
The latest generation of products brings a complete radio frequency signal chain solution for all millimeter wave bands in play, the business said in a press release. Those bands include 24-26 gigahertz, 28 gigahertz, as well as the 37-39 gigahertz range. Anokiwave boasts that its products offer "extensive functionality that simplifies the active antenna array design."
Upton said Anokiwave sells its products to other San Diego electronics companies.
The situation is a far cry from the company's early years, when Anokiwave had fewer than 10 employees. Founded in 1999, Anokiwave offered design services for the first 14 years of its existence. It pivoted to being a product company in 2013.
Anokiwave boasts a high employee retention rate. "People are very happy here," said Jain.