Cox Communications to Harvest Sun Power With EDF
Monday, June 29, 2020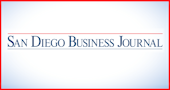 Cox Communications has contracted with EDF Renewables North America for solar photovoltaic and battery storage infrastructure at Cox's San Diego corporate office on Federal Boulevard in the Webster/Emerald Hills neighborhood.
Financial terms of the deal were not immediately available.
It is the first combined solar and storage project for Atlanta-based Cox Communications.
EDF, a French company with its North American office in San Diego, will design and build a 360 kilowatt carport and rooftop solar photovoltaic system, integrating it with a 560 kilowatt/1,360 kilowatt hour onsite battery storage solution. EDF energy management system software will operate the installation.
The improvements, announced on June 29, are expected to offset more than 374 tons of carbon each year.
"Sustainability, and driving positive environmental change, are core to the way Cox does business. We're excited our largest California facility is spearheading the use of solar power and battery storage to reduce our carbon footprint in the region," said Sam Attisha, senior vice president and region manager for Cox Communications in California.
"This solar project will generate almost 20% of the building energy usage and moves us closer to Cox Enterprises' goal of sending zero waste to landfills by 2024 and to being carbon and water neutral by 2044."