Nanome Helps Scientists Tackle Virus from Multiple Angles
Thursday, June 25, 2020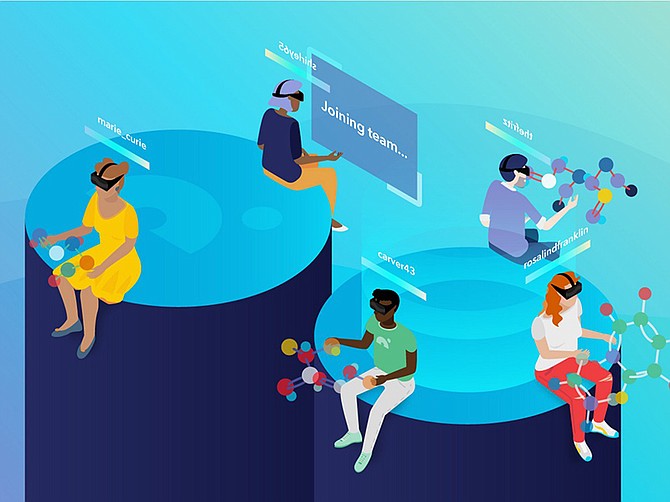 San Diego-based Nanome Inc., maker of virtual reality software is helping leading companies tackle the coronavirus through its VR collaboration platform and tools.
Now more than ever, researchers are leveraging virtual tools to study COVID-19 to gain a deeper understanding and potentially develop a life-changing drug. This provides a unique alternative for scientists who can work in the same room, virtually. 
Researchers from Los Angeles to Canada and to as far away as Australia are gathering in Nanome's virtual rooms in the hopes of developing a treatment for COVID-19. 
Within the virtual space, researchers can study the spiky protein structures that help the virus attach to host cells. Some teams are focused on designing antibodies to prevent the virus from binding to a cell and then running simulations to determine their success.
Others are tinkering with solutions to keep the coronavirus from replicating itself, in the event that it does infect a human cell.
Partnering with the EU Government
More impressively, Nanome is the first U.S.-based company working with the EU government supercomputing project called, Exscalate4Cov (E4C), funded by the European Union (EU) Commission. 
According to a press release, E4C aims to identify molecules capable of effectively targeting SARS-CoV-2 by screening existing libraries. The platform already has a "chemical library" of 500 billion molecules and is developing a model for combating future pandemics as well. 
Founded in 2015, by a group of UC San Diego graduates. Steve McCloskey and Keita Funakawa founded the company through the idea of providing a unique way for scientists to communicate.
"Nanome was created to be a "dome" for the scientists to come together and interact with each other," said Funakawa. "Today we have testimonies of researchers that would have never met in real life, who met as strangers in virtual reality and are now collaborating on projects. It's like a metaverse for scientists."
Servicing Pharmaceutical Industry
The company gets most of its business from the enterprise and pharmaceutical sector, but universities and even just curious users also download its platform on VR app stores. For its more enterprise customers, Nanome also develops products with more security features.
Biopharmaceuticals generate hundreds of billions in revenue and represent approximately 20% of the global industry. The current annual growth of the biopharmaceutical industry is over 8 percent, twice the amount of the conventional pharmaceutical industry.
60% Increase In New Downloads
The company has seen a 60% increase in average daily installs in the months March through June. In addition, its business-to-business enterprise software sales revenues in Q1 this year saw a 74% increase, doubling last year's Q1 numbers.
"We have over 250 universities that have downloaded the software. A subset of that 250 have bought licenses," said Funakawa. "On the pharmaceutical side, we have over a third of the top 15 companies using our software."
Nanome has inked deals with over 15 enterprise customers and has partnered with Facebook and Samsung HTC for its VR technology innovation. About 90% of its users come from the academia vertical.
Tyler Ahlstrom, graduate researcher at the University of Pittsburgh, said he has been working with Nanome over the years to provide educational content to his chemistry students.
"Nanome offers a powerful API that can be used to tailor their software for different workflows and use cases. A lot of people look at Nanome as a set of tools for research, but for us, Nanome is a platform for developing educational content for undergraduate students. We can design interactive experiences to help them understand a subject that is inherently three dimensional."
To date, the company has raised $3.5 million in funding, including from Keshif Ventures, Sparkland Capital and several other investors. The company previously went through HTC's Vive X accelerator program, and the Johnson & Johnson's JLABS incubator.
"With the pandemic and everything going on in the world we're proud to see the Nanome community stepping up to tackle the coronavirus as well as other diseases," said McCloskey.