Luna Grill Moves Forward With Growth Plan
Sunday, June 14, 2020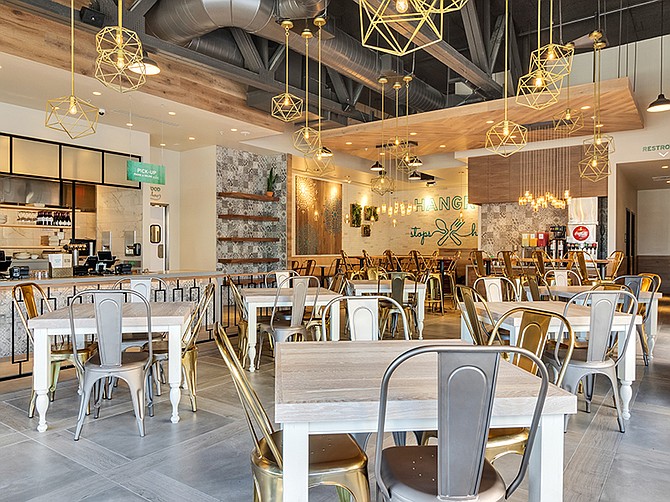 In May, Luna Grill, the San Diego-based fast casual Mediterranean food restaurant chain, hired former Qdoba executive Michelle Goncalves as its culinary vice president.
On June 2, it brought on its first-ever Head of People, AJ Karma.
And just a few days before this issue went to print, the company announced the promotion of Rich Pinnella from chief brand officer to president. Previously at Taco Bell, Pinnella will take on the day-to-day operation as Luna Grill co-founder and CEO Sean Pourteymour moves into an expansion-focused position.
Needless to say, Luna Grill, with 50 stores throughout Southern California and the Dallas, Texas metro area, is on an accelerated growth plan – and the coronavirus crisis isn't taking the wind out of its sail. By the end of 2020, plans are to open two to three more smaller footprint stores, Pourteymour said, and continue scaling into 2021 with the addition of four to six locations.
Strategic Hiring Acquisitions
Since 2019, when the company brought on Bob Bartlett in from Taco Bell and CKE Restaurants as its chief financial officer, and after a short break in 2018 to catch their breaths, the plan has been to make strategic hiring acquisitions in order to position the company for rapid growth, said Pourteymour.
"Starting in 2018, we slowed down the growth a little bit methodically, as we had gotten to almost 50 restaurants," said Pourteymour, who started the company with wife Maria Pourteymour in 2004. "That was a time we realized, you don't always want to grow number of units, but more so slow down to support the infrastructure that will support the next level of growth. In 2019, with the first strategic acquisition to bring Bob in as CFO, we knew he could give us the financial support for the future growth of the brand. Then Rich came along, another very strategic move for us. I could immediately tell he was someone that could understand my vision and my wife's vision of how we wanted to grow the company."
That same year, Luna Grill, which had a revenue of $27 million in 2015 and a target growth rate of 25% to 30% per year, doubled its EBITDA, said Pourteymour. It had increased its sales, its transactions and its guests count in comparison to the previous year, he said.
And then, COVID-19 hit.
Salary Cut
At first, the restaurants went into full shut down, said Pourteymour, and business sunk by 100%.
After giving it some thought, the team decided not to lay-off or furlough any of its 1000-plus employees, over 800 of which are in San Diego, said Pinnella. Instead, the c-suite made a collective decision to take a salary cut so the next guy could have a job, he said.
And, from there, things began to fall into place.
"That was one of the best decisions we could make and it has paid off," Pinnella said. "It allowed us to pivot with a three prong stretch and focus on safety and sanitation, innovation and doing good."
From the safety aspect, the stores implemented all CDC safety guidelines and protocols, he said, and eliminated the beverage stations as well as added sanitizer stations throughout the stores. On the innovation end, Pinnella said it shifted all marketing efforts to digital and heavily promoted delivery and curbside pick-up. Pinnella said delivery, a mix of third-party and their own through the Luna Grill app, had already accounted for 18% to 20% of its business and is now over 40% for a 155% growth. With no drive-thru option, Pinnella said the addition of curbside pick-up now makes up 20% of all transactions.
Doing Good
On the product innovation side of things, Pinnella said Luna Grill launched a family meal program in a four pack and a six pack option. And, through its "doing good" initiative, it launched its "Good Card" e-gift card program and pledged over 34,000 hot meals for kids. It also pledged over 20,000 meals to feed roughly 37 hospitals between Los Angeles, San Diego and Texas, Pinnella added.
"In total, we delivered over 50,000 meals throughout this pandemic altogether," he said.
Today, about 90 days into lockdown, Luna Grill is probably in the single digits as far as being down over the last year is concerned, said Pourteymour. It's even had days and weeks where the business beat out last year, he said, crediting not only its loyal customers but to having the right team for its relative success throughout the pandemic.
New Leases
Now, Pourteymour said he's negotiating new leases for new site collections and is focusing his efforts on store development, construction and design. He said the goal is to open smaller restaurants so that the NOI (net operating income) is higher.
"If we build less expensive restaurants with lower investment thresholds," he said, "it gives us the ability to have more Luna Grills than not."
Miro Copic, marketing professor at San Diego State University, said the good thing about this direction at this point in time is that there will be more inexpensive real estate available.
"You don't want to put yourself in a limiting situation, as part of the Luna Grill charm is its nice dine-in environment," he said. "But, if they are able to remain successful with curbside and delivery, then, the sales per square foot will be pretty good. The fact that they stayed opened and did curbside and deliver during the pandemic certainly gives them an advantage."
Better Return
Pinnella concurs.
"There's been a push for the last five years or so to try to economize the footprint in the restaurant industry because real estate has been so expensive," he said. "Sean and I talked about it pre-COVID, to start scaling down, especially as we jumped on the delivery business before the crisis and began growing that segment. Now, COVID has crystalized that strategy. We now know delivery will have its place post-COVID and people will be forced to use that technology and sales channel. I think we can get better return and economize on our footprint this way."