100-Room Hotel Opens in Imperial Beach
Sunday, June 14, 2020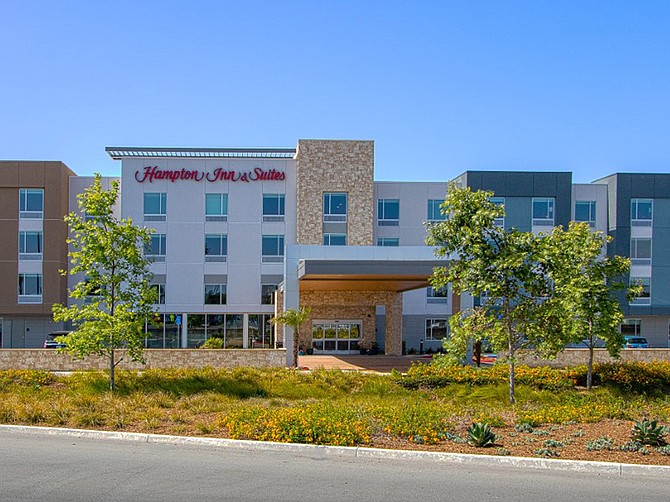 Sudberry Properties has completed a 100-room Imperial Beach hotel that city officials hope will draw more investment to the city.
Hampton Inn & Suites by Breakwater opened on Memorial Day at 771 Palm Ave. in the Breakwater Town Center, a shopping center previously built by Sudberry Properties.
Combined, the hotel and town center cost about $40 million, said Colton Sudberry, president of Sudberry Properties.
Game Changer
Imperial Beach Mayor Serge Dedina said "a project like Hampton Suites is a game changer."
"It's a big deal for Imperial Beach and a big asset," Dedina said. "For a low revenue city like Imperial Beach with a dearth of hotel projects, it's critical to attract investment that helps us with our TOT (tourist occupancy tax) that we can invest back into the community."
With a "beach modern" design, the four-story hotel location is at a gateway to Imperial Beach, Dedina said.
The hotel opening coincides with improvements the city of San Diego is making along Palm Avenue leading into Imperial Beach, including an elevated bike lane along Palm Avenue that will connect with the Bayshore Bikeway, landscaping, synchronized traffic signals, public art and improvements to business facades, Dedina said.
Coming in the middle of the COVID-19 pandemic, the hotel's opening could have been better, Colton Sudberry said.
"The timing isn't stellar," Sudberry said. "It's certainly not something we were planning to do."
Nevertheless, Dedina said there is market for the new hotel, even during a pandemic.
"People still need place to stay during the pandemic, especially essential workers and the military, "Dedina said.
Once the pandemic ends, the hotel will likely draw guests from the nearby Navy Base Coronado Campus that is under construction in addition to tourists, Dedina said.
Nightly room rates range roughly from $100 to $200 a night, depending on the season, Sudberry said.
1.6-Acre Site
Built on a 1.6-acre site, 62,000 square-foot hotel is owned by Heritage Inn of Imperial Beach with Sudberry Properties and Theraldson Hospitality Management as managing partners. The hotel is operated by Theraldson Hospitality under a franchise agreement with Hilton Worldwide Holdings.
This is Sudberry's first hotel and Colton Sudberry said his company is planning to build a hotel in Mission Valley and a hotel in Scripps Ranch.
The timing on construction of those hotels will depend on how quickly the hotel industry recovers from the pandemic, Sudberry said.
"I think the hotel market will definitely recover but I think it will be some time before there's justification to build new products," Sudberry said. "We'll have to look at the metrics as we go along."
Working with Sudberry Properties on development of the Imperial Beach hotel were architect Joseph Wong of JWDA of San Diego, Design Cell Architecture headquartered in Las Vegas and Watkins Landmark Construction of Carlsbad.
The hotel includes 100 parking spaces, a fitness center, breakfast and lounge area, outdoor swimming pools and free Wi-Fi.
Adjacent to Shopping Center
The hotel and adjacent shopping center have been in the works for more than a decade. The shopping center was completed in 2017.
Tenants include Grocery Outlet, Baskin Robbins, Chipotle, Five Guys, Jersey Mike's, Poke 123, Starbucks and Wingstop.
Originally planned as a redevelopment project, construction of the center was delayed when redevelopment agencies were abolished throughout California in 2011.
The subsequent success of Breakwater Town Center "shows that Imperial Beach is a solid investment," Dedina said. "People need to take a second look at Imperial Beach and realize that Imperial Beach is more than likely the most business-friendly coastal city in California. We are doing everything that we can to facilitate smart investment that will have a positive impact on the city."