60 Companies Named 'Cool' By Connect Group
Wednesday, June 10, 2020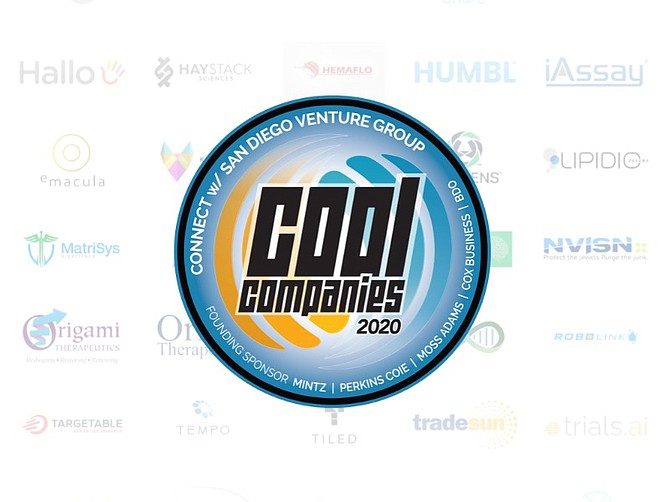 A new crop of "Cool Companies" in San Diego were selected by Connect with San Diego Venture, doubling last year's numbers.
The leadership team neutrally selects top tier, local entrepreneurs who are raising institutional funding, and grants them opportunities for direct access to capital providers. The firm said it received hundreds of tech and life-science startup applications.
In previous years, around 30 companies were selected and introduced to over 100 VCs from across the country at its flagship event. This year, given the current environment and physical constraints, the organization reconsidered its campaign and nominated twice as many companies as a result.
In total, 60 technology and life sciences companies were named a 2020 Cool Company.
"We are super excited to be working with this year's batch of cool companies," said Mike Krenn, CEO of Connect. "We fully realized that COVID-19 presents a unique set of challenges, but we think we've got a thoughtful game planning approach and we're going to do really well. It's super ambitious but we think that's what we're supposed to do."
Cool Companies is an annual capital program designed to match San Diego's top-performing technology and life sciences startups ready to raise Series A investment with quality venture capital.
Connected With Over 400 Funds
Over the past five years, Connect with San Diego Venture Group has developed meaningful relationships with more than 400 funds including Illumina Ventures, Agilent Technologies, Anzu Partners, Vertical Venture Partners, and FusionX Ventures, among others. 
Since 2016, Cool Companies have raised over $400M, in just Series A institutional funding and its program regularly attracts over 200 VCs to the region annually.
The goal of the campaign is straightforward: build real, trusted and long-term relationships with venture capitalists outside of the region.
Krenn said, a big part of what drives the team every day is aiming to elevate the perception of San Diego in the minds of the investment community -- which means, rising "above the noise" with what goes on day-to-day with powerhouse tech hubs like Silicon Valley. 
Actively engaged the venture capital community, the firm helps companies make targeted introductions for quality companies, without taking fees or equity.
Playing the Long Game
Playing for the long term, the nonprofit aims to convince the best investors that San Diego is an amazing market, with great companies and that the ecosystem has the infrastructure to enable companies to compete on a global scale. 
"Whether we're introducing investors to an early-stage Software-as-a-Service (SaaS) company to a late stage therapeutic company or everything in between, we are really selling San Diego at the same time," Krenn said. 
Overall, the years of hard work has slowly began to pay off with solid investment dollars to back it up.
Last year, $3.4 billion in venture capital was invested into San Diego companies, up from $1.3 billion in 2018. More impressively, more than 25 Cool Companies have raised more than $100 million in funding since 2016. 
No longer bound by physical event space constraints, the organization wrote over email that it's excited to move the program forward in a format that meets the needs of the community and that ultimately best serves San Diego.
This year's Cool Companies include: 1859 Aequor, Arborea, Assured Wireless, Believe Health, Biocanic, Carlsmed, Cella Medical, Ceresti Health, Chilldyne, Circumvent, Concert Health, Cybele Microbiome, Daasity, Digital Proteomics, Educational Vision Technologies, Entcloud.io, FormAlloy, formsense, Galley Solutions, Game Tree, Global BioTherapeutics USA, Goshare, Gryphon, Hallo, Haystack Sciences, HemaFlo Therapeutics, HUMBL, iAssay, Innovega, KAST, La Jolla NanoMedical, Leo Lens Pharma, Lipidio Pharmaceuticals, MatriSys Bioscience, MemComputing, Micronoma, NeuraLace Medical, NVISNx, Origami Therapeutics, OrPro Therapeutics, PhotoCulture, Realwave, Rejuvenate Bio, Robolink, Targetable, Tempo Therapeutics, The Atlas, Tiled, TradeSun, Trials.ai, UCAP Power, Universal Devices, Vektor Medical, Veriskin, Vigilance Risk Solutions, Inc, Vivid Genomics, Water Pigeon, XILO, and yuFlu.