S.D. Apartment Rental Rates Hold Steady
Tuesday, June 9, 2020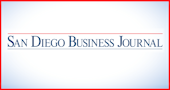 San Diego apartment rates were virtually flat in May during a time of year when they're typically rising – a result of the COVID-19 pandemic.
For rental property owners, that's still better than some other cities where rents dropped in May.
The good news for investors is that according to some real estate economists, overall monthly rates are likely to hold and not see any precipitous drops, but they said that the rental market varies widely.
"What we're seeing right now is definitely the first signs of some softening in the market. We're certainly not seeing any drastic declines," said Christopher Salviati, an economist with Apartment List, a national rental listing agency.
From April to May, rents declined in the aggregate by 0.3 percent in San Diego County, according to Apartment List.
"I would almost characterize that as pretty flat," Salviati said.
Part of that is due to lockdown rules, which kept many people sheltering in place at a time of year when moving typically starts to peak.
Demand Varies
The pandemic also has tightened demand for mid-priced apartments but softened it for high-end, luxury apartments, according to Apartment List.
"Once this (pandemic) settles down, I think we'll see a lot of softness in that area of the market. I don't think we'll see as many folks looking to pay those higher rents," Salviati said. "We may see tighter competition for some of the more affordable units on the market."
Similarly, Zumper, an apartment listing service, reported that nationally, the pandemic has moved demand for apartments from urban centers to more affordable areas.
"COVID 19 has shifted demand away from the most expensive markets as many companies move to remote work," said Crystal Chen of Zumper.
"Many renters are looking for more affordability outside of expensive metropolitan areas," Chen said.
San Diego Pricier
Looking at monthly changes, Zumper reported that all of the top 10 priciest cities in the country either had flat or declining rents.
Even so, San Diego was ranked by Zumper as the ninth most expensive city in the nation for renters among the top 10 rental markets.
San Francisco kept its position as the most expensive place in the nation for apartment rentals despite a 9.2 percent drop from a year ago, the biggest drop reported by Zumper since the firm began tracking rents in 2015, Chen said.
By comparison, San Diego is a bargain with the median monthly rent for a one-bedroom apartment $1,770 compared to $3,360 in San Francisco, according to Zumper.
Of the 100 metro areas surveyed by Zumper, Akron, OH had the least expensive rental rates in the nation, with the median monthly rent for a one-bedroom apartment $580 and $720 for a two-bedroom apartment.
Concessions
On the down side, Jeff Tucker, an economist for Zillow, another listing agency, said landlords – especially on the high end - are likely to start offering more concessions to attract and keep tenants.
Tucker said the full impact of the pandemic on apartment rents hasn't shown up yet.