New Public Safety Training Center Coming To South County
Tuesday, June 9, 2020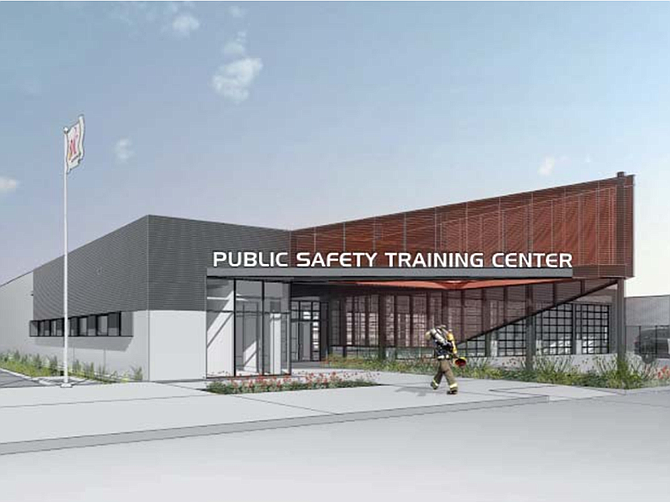 Demand for firefighter, police and emergency medical personnel has grown so strong in South County that Southwestern College is building a $19.2 million Public Safety Training Center.
The college has offered public safety training programs at its Higher Education Center in Otay Mesa since 2007, but the program has outgrown the existing center, said Dean Silvia Cornejo. The new facility is being built at this location.
"For paramedics, EMT and the policeacademy, we'll have better facilities for the students we've been training," Cornejo said. "The greatest advantage will be for our fire science program."
The college has been limited in the degree of firefighter training it could offer.
"In the past, we offered a fire science certificate and degree but this was not a fire fighter academy certificate," Cornejo said.
More Training
The new 24,500 square-foot training center will enable the school to offer a higher level of training that will allow graduates to step right into jobs with area fire departments, Cornejo said.
"In working with our local fire departments, they want to hire people from our community," said Cornejo. "In addition to being able to serve our students who want to go through this training, several local fire departments are interested in collaborating and using our facility for advanced fire fighter training."
The nearest place to get the full firefighter training for South County has been Miramar College.
"A lot of our South Bay students have transportation issues, so that wasn't an option for us," Cornejo said. "A lot of those students can't travel to Miramar College."
The new training center "will give our students enhanced training facilities found nowhere else in the county," Cornejo said.
Money for the Public Training Center comes from a $400 million bond measure approved by voters in 2016 as Proposition Z.
In addition to firefighter training, the center will continue to offer police, paramedic, and emergency medical technician training.
Details
At the heart of the new five-building Public Training Center being built by Barnhart-Reese Construction based in Rancho Bernardo is a four-story building of about 5,500 square feet that includes a 44-foot tall tower for live fire training next to an asphalt training yard for truck maneuvering.
"There's not a lot of those in our area," Cornejo said.
A burn room is meant to give students a sense of what it's like to be inside a burning building.
"There's beds in a room, all this type of stuff, that you can light on fire and burn over and over again," said West Reese, Barnhart-Reese CEO.
Students in the police and paramedic/EMT training programs will get to hone their skills in a 500-square-foot mock apartment building outfitted like a true apartment to simulate real life house call situations, said Nicole George, college project manager.
An 8,800 square-foot multipurpose building will include 1,100 square-feet of space for police driving and shooting simulators, offices, classrooms, lockers and restrooms, and a fitness training space with an adjacent covered patio for outdoor instruction and a place for students to recover after training exercises, George said.
A 7,800 square-foot apparatus building will have six drive-through bays for emergency vehicles used in police, firefighter and EMT and paramedic training.
A favorite of Cornejo's is a 2,400 square-foot storage building with an outdoor patio.
"All of these programs have a lot of stuff, equipment," Cornejo said, adding that finding places to put it is a challenge.
The project also will include renovation of an existing exercise track and obstacle course/fitness center. The new track will have a rubber running surface.
Construction is scheduled for completion in summer 2021. The architect is Marlene Imizan & Associates.
Pandemic
Reese said the COVID-19 pandemic hasn't affected the Southwestern College project but it is causing other issues for the company.
"We're doing well because we've got jobs in the works. Our concern is there aren't a lot of projects to bid. A lot of projects have been put on hold. We're in there working. We wish we had more," Reese said. "At some point, the jobs are going to be finishing. It's a little nerve-wracking."
Among Barnhart-Reese's ongoing projects is construction of a satellite fire emergency response station on Camp Pendleton.
The 15,285 square-foot, single-story building will include administrative spaces, living quarters, changing areas, showers, laundry rooms, training areas, storage spaces, a fitness room, a kitchen/dining/day room, a covered patio, bathrooms, maintenance areas, storage areas and five vehicle apparatus bays.
"There just seems to be a lot of fire station projects in the works right now," Reese said.
Barnhart-Reese previously built Bayside Fire Station 2 in Little Italy.
"The fire department and fire stations are fun projects," Reese said. "They kind of pull on our heart strings."