San Diegans To Soon Dine Al Fresco
Tuesday, June 2, 2020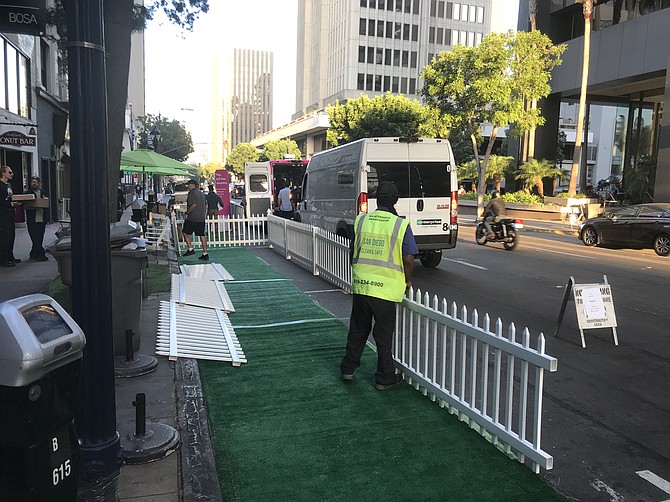 In light of COVID-19, the Downtown San Diego Partnership wants San Diegans to dine al fresco.
The member-based organization, focused on promoting economy and culture downtown, is hoping to kick off the "Curbside San Diego" initiative this month, which will allow restaurant customers to dine in designated outdoor areas in an effort to practice social distancing while creating revenue for local businesses.
Set to launch in six pilot zones to start, the "Curbside San Diego" program will use public right-of-way and private areas in the Gaslamp Quarter, the East Village, Columbia, Little Italy, City Center and Cortez to help increase business activity, specifically for local restaurants. While food and beverage places were given the green light to reopen in May, they have to do so at limited capacity, said Downtown San Diego Partnership president and CEO Betsy Brennan. The "Curbside San Diego" initiative will create outdoor spaces that can give restaurant owners and diners an extended dining option while following safety guidelines.
Make a Profit
"Businesses have a need right now to get customers and to be able to use restaurants," said Brennan. "Many businesses, particularly restaurants, need to be able to serve more people to make a profit and stay open. We want to support those businesses. The Curbside San Diego Initiative is to allow for extended dining and feeding options in public right-of-way, even sidewalks and streets, in some cases. The idea is for patrons to get food from those neighborhood restaurants and sit down outside in an outdoor area that is safe and complies with safety rules."
Tables and chairs would not only be set up six feet apart from each other, said Brennan, but the Downtown San Diego Partnership's 40 contracted Clean & Safety ambassadors would patrol the areas and educate those partaking on the use of face masks, among other protocols. Brennan said there will also be signage put up to remind users of the health measures to take while utilizing the space, particularly during COVID-19.
Tables and chairs would be provided by both participating restaurants and the Downtown San Diego Partnership's own stash of stow-away furnishings, the latter which plans to cover all additional costs through its operating annual budget of $11.7 million. Brennan likens the concept to the likes of piazzas in Barcelona, Spain, in Copenhagen, Denmark, even in Santa Monica, she said.
"It isn't our idea," Brennan said, "but we are helping spearhead this concept here in San Diego."
Setting Up, Breaking Down
The Downtown San Diego Partnership team will be in charge of setting up and breaking down the locations, Brennan said. Each area is requesting a different amount of days based on the neighborhood's needs, she added, including four of the six locations requiring weekend use only and one, Cortez, going for a longer, seven-day stretch.
Marco Li Mandri, president of New City America, Inc., which manages Little Italy, said he's been working on an effort to create more outdoor dining options for the neighborhood for a month and a half now, since he knew reopening on a limited capacity would soon come. So, when the Downtown San Diego Partnership told him about Curbside, he jumped on board.
"The state is going to require that food businesses do a certain amount of seating indoors because of social distancing requirements," Li Mandri said. "As a result, restaurants will lose quite a bit of revenue. So, we thought, why don't we offset or mitigate that by allowing people to sit outdoors? All the way to the curb, as long as there is a 20-foot-wide emergency vehicle access."
Every Summer
Starting June 13, Little Italy will close India Street, between Beach and Grape, from around 4 p.m. to 10 p.m., and reopen at 11 p.m., said Li Mandri, adding that the plan is to do this multiple times over the summer. If it works well, he said, and doesn't violate social distancing rules, he hopes to continue to do it every Friday and Saturday night, every summer moving forward.
The Little Italy Association is one of 13 organizations supporting the program, said Brennan. Others include Gaslamp Quarter Association and East Village Association.
So far, the Curbside San Diego initiative has been backed by the mayor's office as well as several councilmembers, including Chris Ward from District 3, said Brennan. The goal now is to use the pilots to fine tune the program and then, down the line, other neighborhoods in San Diego can hopefully follow suit.
"The 35,000 residents in downtown can benefit from this, but there are other communities in San Diego that can benefit as well," said Brennan. "We want to set up the template and make it safe and low cost for others to implement later."