T3i Inc. Receives $26.4M Deal to Train Navy Special Operations Forces
Wednesday, July 29, 2020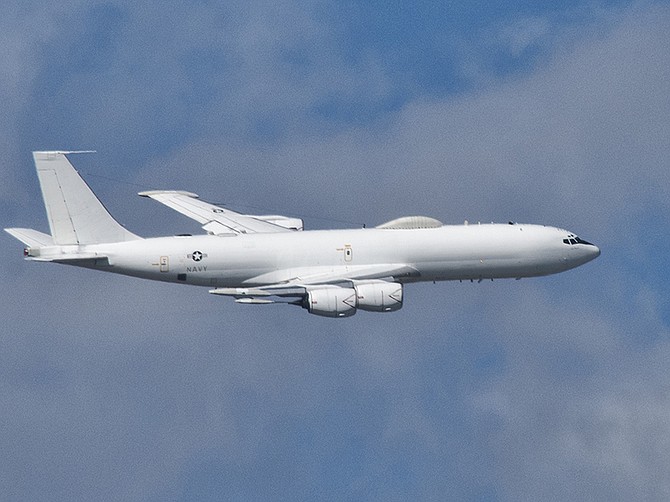 The following are selected defense contracts awarded to San Diego County companies in June and July. The U.S. Department of Defense releases a digest of contract awards daily at 5 p.m. Eastern Daylight Time. Listings also include companies operating in San Diego County.
The U.S. Navy awarded T3i Inc. of Imperial Beach a $26.4 million maximum contract to provide training services in survival, evasion, resistance, escape (SERE) and personnel recovery. Work will support Naval Special Warfare Command requirements, and will be performed in various locations in the United States. If all contract options are exercised, work may continue through fiscal 2026. T3i is a veteran owned business that provides specialized tactical and technical services. The majority of its clients are Special Operations Forces. The Naval Special Warfare Command awarded the deal on June 11. It received six proposals.
Scripps Receives Oceanographic Contract
The U.S. Navy awarded the University of California San Diego a $16.5 million contract for the development of state-of-the-art improvements to unmanned systems and ocean sampling. Work will be performed at the Scripps Institution of Oceanography. The lines of effort will improve and implement new oceanographic sampling techniques and methods. Experimentation events will enable data collections to support the next generation of federated oceanographic data tasking, processing and dissemination for future war fighting and oceanographic applications. Work is expected to be completed by June 2025. The Office of Naval Research in Arlington, Virginia awarded the contract, announced on June 15.
Radio Equipment Contract Goes to Viasat
The Department of the Navy awarded Viasat Inc. of Carlsbad a maximum $8.9 million firm-fixed-price contract for spare parts for AV-8B Harrier aircraft. This was a sole-source acquisition as the Navy determined there was only one responsible bidder for the contract. The three-month deal runs through Sept. 30. The Defense Logistics Agency Aviation of Philadelphia awarded the deal, announced on June 16.
Four Go to Oahu for Ship Repair
Bay City Marine Inc. of National City, Epsilon Systems Solutions Inc. of Kearny Mesa, Propulsion Controls Engineering of Southcrest and Integrated Marine Services Inc. of Chula Vista are among 10 companies that will split up to $49 million for ship repair, maintenance and alteration work. The U.S. Navy awarded contract modifications to existing contractors, increasing the value of previously awarded multi-award indefinite delivery, indefinite quantity contracts to a total of $98 million. Under the deal, participating companies may get delivery orders to repair, maintain or alter U.S. government waterborne vessels and surface ships visiting or homeported in the Hawaiian Islands. Work will be performed on Oahu, Hawaii. Types of trades required are ship fitting, sheet metal, welding, pipefitting, painting, machining/mechanical, electrical, electronics, woodworking, lagging and rigging. Sample work includes, but is not limited to, ventilation, air conditioning, tank work, structural repairs, fumigation, electrical system repair, pump repair, fan repair, decking, fire system repairs and updates. Work is expected to be completed by September 2022. The 10 contractors may compete for delivery orders under the terms and conditions of the awarded contracts. The Naval Sea Systems Command at Pearl Harbor Naval Shipyard and Intermediate Maintenance Facility awarded the contract, announced on July 14.
Northrop Grumman to Perform Data Link Work
The U.S. Navy awarded Northrop Grumman Corp. a $9.5 million modification to a previously awarded contract. The deal calls for the installation of the multi-role tactical common data link into two E-6B Mercury aircraft. The E-6B is an airborne command post sometimes referred to in the popular press as the "doomsday" plane. It is a specialized, updated version of the Boeing 707, first received in 1997, that relays commands to submarines carrying intercontinental ballistic missiles. It can also launch land-based missiles. The aircraft carries a very low frequency communication system with dual trailing wire antennas that relay commands. More than half of the work under the new contract (56% or roughly $5.3 million) will be performed in San Diego with the balance in Lake Charles, Louisiana. Work is expected to run through October 2021. The Naval Air Systems Command of Patuxent River, Maryland awarded the contract, announced on June 29.
Schmidt to Build at Camp Pendleton
The Department of the Navy awarded B.C. Schmidt Construction Inc. up to $10 million over five years for construction projects — specifically new flooring work, additions, alterations, maintenance and repairs at various locations within Marine Corps Base Camp Pendleton and Naval Weapons Station Seal Beach. B.C. Schmidt is a small business from Colusa, north of Sacramento. The business will now wait for the Navy to issue task orders under the indefinite delivery, indefinite quantity contract. The deal was competitively procured via the beta.SAM.gov contract opportunities website and three proposals were received. The Naval Facilities Engineering Command Southwest of San Diego awarded the contract, announced on July 16.