Cubic to Provide Battle Simulations in $16M Deal
Tuesday, July 28, 2020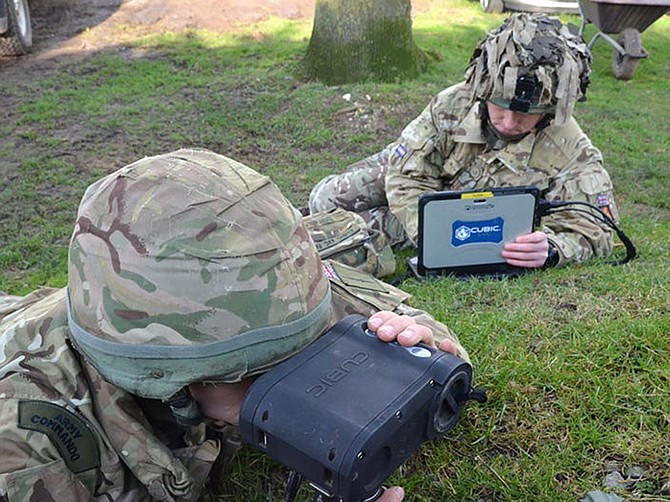 Cubic Corp.'s military training business received a four-year, $16 million contract from the British Army to make its war games more realistic. The business announced the deal on July 14. It's a follow on to a similar, previous deal.
Under the contract, live training will be complemented by simulations, both "virtual" and "constructive." Virtual training can be likened to a pilot operating an aircraft simulator. Constructive simulations have aspects similar to videogames, including the game making things happen independently of the player.
There is a movement toward live, virtual and constructive training across all military services, said Mike Knowles, president of Cubic Global Defense.
Synthetic Wrap
Cubic calls its technology "Synthetic Wrap" and offers it as a managed service.
Using the technology, a soldier on the ground controlling an airstrike might direct a simulated aircraft to its target. Using a binocular system provided by Cubic, Knowles said, that person will see videogame-like images of an aircraft and a release of weapons.
The gaming system will know when the weapon was launched and whether it hit its target (say, vehicles or a building). There may even be a detonation and smoke created through special effects. "It's like being in the movies," Knowles said.
There is no need to use a real aircraft, or to drop real munitions, or to have live munitions in the same general area as people. In addition to adding a measure of safety to training, commanders may use such simulations in circumstances where using the real thing would cost too much, or where weapons are scarce.
Synthetic Wrap can also generate emulations on handheld observation devices, letting soldiers see the fall of shot from guns, missiles, mortars and air-delivered weapons. In another use, emulated radar and electronic warfare terminals can allow soldiers to locate an enemy. Also available are emulated downlinks from fictional unmanned aircraft.
The system captures and recreates the training events for post-mission analysis. Cubic has provided similar technology to pilots for decades.
Under the recently announced deal, Cubic will continue to provide its Synthetic Wrap capability at three training facilities — at the Salisbury Plain Training Area in southern England; on the plains of Canada at British Army Training Unit Suffield in Alberta; and at British Army Training Unit Kenya.
Constructing the Future
In the future, the forward air controller might wear high-tech glasses with an augmented reality feature, where a computer-generated image is superimposed over a video of the scene in front of him. Cubic has tried it in the lab, Knowles said, though for everyday use, augmented reality is still too cumbersome. Cubic is waiting for size, weight and power (or SWAP) improvements in the hardware, the executive said.
Cubic has also delivered its Synthetic Wrap technology to Australia. In the next year and beyond, there will be opportunities to provide the technology to the U.S. Marine Corps and the U.S. Army, Knowles said.
Cubic has used similar game technology to train sailors to operate U.S. Navy ships. It's done so for about five years. The business found it was able to certify ship maintainers 60% faster, and sailors retained information "significantly longer," Knowles said.
Follows a $35M Deal in June
In June, Cubic announced it won a three-year contract worth more than $35 million to support and repair what is known as the Area Weapons Effects Simulator (AWES) System at Salisbury Plain in England and British Army Training Unit Suffield in Canada. Cubic installed the systems in 2002 and 2003.
AWES and its integrated Tactical Engagement Simulation (TES) system simulates large-scale force-on-force combat exercises, including the effects of direct fire, artillery, mortar fire, mines and air-delivered munitions as well as nuclear, biological and chemical weapons. AWES also tracks and monitors the actions and positions of more than 1,400 individual soldiers and 250 vehicles using GPS technology, records "hits," "kills" and "near misses" of small-arms fire with Cubic's Multiple Integrated Laser Engagement System (MILES) technology and recreates combat exercises for post-mission analysis.
A Unique Business Model
Cubic's business model is unique. Last year it received 43% of its revenue from its defense businesses. It received the balance of its revenue from a business that provides transportation technology to transit agencies and local governments. Among other things, Cubic offers the fare collection service for London's subway, known as The Tube.