QDOBA to Open First Restaurant in Hometown
Sunday, July 26, 2020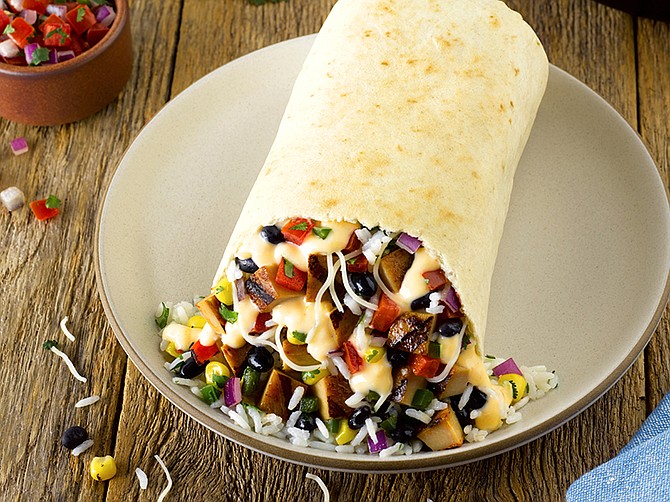 QDOBA Mexican Eats, the San Diego-based fast-casual Mexican food chain with 730 locations across 47 states and Canada, is finally opening its first hometown restaurant.
Scheduled to debut in the fall, the Mission Valley company-owned location will include all of the QDOBA bells and whistles, according to Jill Adams, vice president of marketing, including digital ordering and delivery on the QDOBA site and mobile app, third party delivery and catering for both B2B and B2C channels. Additionally, the San Diego restaurant, at 2,400 square feet and suitably for the pandemic, will feature a walk-up, pick-up window, outdoor dining and a curbside option that allows for orders to be dropped off with customers at their parked cars, she said.
This is the fifth location QDOBA, founded in 1995 and headquartered in Mission Valley, will open during the pandemic, according to Adams. In June, it debuted restaurants in Marietta, Ga., Fort Worth, Texas, and Farmingdale, N.Y. In July, QDOBA opened an eatery at the Nellis Air Force Base in Nevada.
Now, the plan moving forward for the $900 million company – projected to reach $1 billion by the end of 2020 – is to continue to grow its local footprint, with franchised openings planned in San Diego down the line.
Growth Company
"We are a growth company and we are always looking for growth opportunities," said Adams. "For San Diego, we are actively looking right now for what are those best neighborhoods and best sites to go into for QDOBA. Mission Valley won't be the only location."
Since relocating its headquarters from Denver, Colorado, in 2017, after being acquired by San Diego-headquartered Jack in the Box in 2003 for $45 million, the plan for QDOBA has always been to claim a piece of San Diego's thriving food scene by opening multiple restaurants here. But no sooner had it put down local roots in an effort to consolidate infrastructures, Jack in the Box decided to sell it, said Adams.
In 2017, Jack in the Box sold QDOBA to Apollo Global Management for $305 million.
This put a slight damper on its local growth and expansion plans. But, as soon as that sale was completed March of 2018, Adams said the company started back up on its search for the perfect real estate for its long-awaited San Diego debut. And, that led them to Mission Valley store, scheduled to open between late September and early October. Just one mile from the corporate headquarters, the new location will bring 30 new jobs to the county, she said.
Test Kitchen
In addition to serving the San Diego community, Keith Guilbault, QDOBA's CEO, said the new location will serve as a test kitchen and training facility for the company.
"We are so excited about opening our first restaurant in San Diego," said Guilbault. "It took us a little while to find the right location as we definitely knew we wanted it to be somewhat near our office. Now, not only will it serve all of our customers, it will also be a place to train corporate employees, a place to bring in perspective franchisees and a place to test new concepts. Having it literally on the same street as the office will work to our advantage."
Robust and Flavorful
On the menu side, the Mission Valley QDOBA location will offer the "robust and flavorful" menu items it is known for, said Adams. This includes its most popular product, the Grilled Adobo Chicken Bowl or Burrito with its signature three-cheese queso, and its Impossible Meat protein option, with a proprietary blend of spices and seasoning, she said.
"We launched the system May of 2019, so over a year ago, and tested it prior to that," said Adams about the plant-based offering. "We are still the largest Mexican fast-casual chain to offer plant-based Impossible meat. We are (also) the largest restaurant brand which offers it as a ground meat option versus a burger. We offer it as part of our burrito and bowl and it is our most popular protein behind chicken and steak."
For Sale Again?
Just as things were starting to stabilize, late last year, it was reported that QDOBA might be up for sale once again.
According to a Bloomberg article, Apollo Global Marketing Inc., the New York-based private equity firm which acquired it from Jack in the Box, was exploring a sale of the company that could be worth up to $550 million, including debt. It claimed Apollo wanted to sell QDOBA after attempts to take Chuck E. Cheese parent CEC Entertainment Inc. public via reverse merger fell through that July.
But Adams assures that for now, QDOBA will remain in business with Apollo… and sit tight in sunny San Diego.
"We are currently not in the process of the sale anymore," she said. "Private equity firms are always looking for opportunities, but they decided now is not the right time."
For Adams, the decision provides a sense of relief, particularly because of the pandemic.
"They've been great partners," she said, "it's been nice to have the same ownership group as we manage through this new world."