The San Diego Foundation Raises $27.2M for COVID-19 Relief
Tuesday, July 21, 2020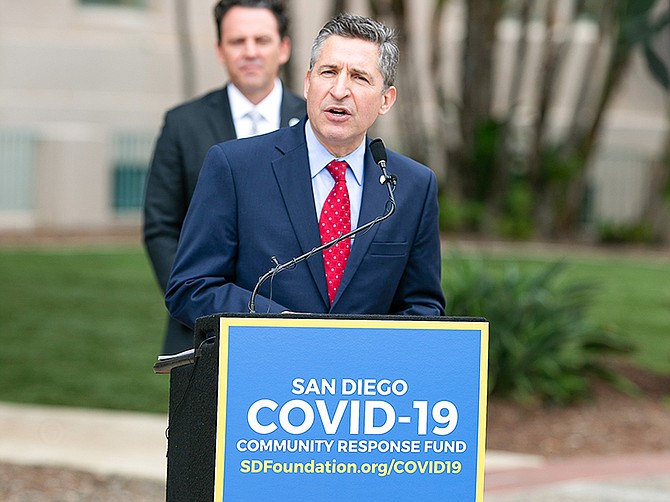 Earlier this month, The San Diego Foundation announced its "San Diego COVID-19 Community Response Fund" had granted an additional $11.4 million to 25 nonprofits. This includes providing financial aid to YMCA of San Diego County, the Central San Diego Black Chamber of Commerce, San Diego LGBT Community Center and San Diego Hunger Coalition, among others.
The rapid response grants will provide resources for childcare support for frontline and healthcare workers and low-income families, food and financial assistance for seniors and overall health services for underserved members of the community, among other assistance and support efforts for residents throughout San Diego County.
Total grantmaking has now surpassed $24.6 million to more than 150 groups out of a total $27.2 million raised, according to the organization.
Now that San Diego Unified School District has announced it will remain virtual at least through the fall of the upcoming school year, Mark Stuart, president and CEO of The San Diego Foundation said it will place hefty focus on providing technology for disadvantaged students and addressing the digital divide.
Comfort, Relief and Hope
"For the time being, we are focused on the emergency fund and helping to care for those who need comfort, relief and hope to get through the crisis," said Stuart, who oversees the 45-year-old organization with revenue of approximately $90 million last fiscal year and an operating budget of $11 million.
"With the closure of the San Diego Unified School District for in-person education, we recognize so many other school districts will follow their lead. There are thousands of students in San Diego County, from kindergarten through college, that don't have digital and learning devices to carry on with their studies. We want to address the learning and digital divide of low-income kids. That will be significant for us."
When the pandemic hit, Stuart said he learned 14,000 community college students throughout the county had no way to get connected to classes and teachers. So, The San Diego Foundation's grants have and will continue to go toward helping students not only get devices but also wi-fi hotspots to be able to connect to the internet, he said.
Largest Provider
Providing respite for students in the San Diego area isn't new to The San Diego Foundation.
According to Stuart, the Liberty Station-headquartered organization is the largest provider of need-based college scholarships outside of colleges and universities themselves. Making sure students, particularly under-privileged students, get into college and persist graduation is one of The San Diego Foundation's most important ongoing projects and initiatives, he said.
The application process begins in January or February and scholarships are deployed to the college or university of the recipients, said Stuart. The other way the nonprofit funds education is through the foundation's support of organizations like Barrio Logan College Institute, which prepares underserved students to be the first in their families to go to college through after school programs that begin in the third grade, he said.
Quality Childcare
The San Diego Foundation is also highly committed to helping provide quality childcare for working families, said Stuart, adding that it has approximately $10 million to $13 million to deploy over the next five to six years to help advance quality childcare.
"We have about 170,000 slots for childcare needed in San Diego for which there are no providers," he said, adding that The San Diego Foundation hopes to step in and lessen the gap. As part of the San Diego COVID-19 Community Response Fund, "We distributed $10 million in childcare vouchers for first responders and for healthcare workers and low-income families, and we granted $5 million each to the YMCA of San Diego County and Child Development Associates, Inc. We anticipate they'll reach thousands of families with those dollars."
And, there is more.
The San Diego Foundation, with 53 employees, has been running an environmental program for decades, said Stuart. He said most of the research that went into San Diego's "Climate Action Plan", which contains a series of measures to reduce greenhouse gas emissions over the next 30 years, was funded by The San Diego Foundation.
"We are also the largest holder of mitigation funds in the county so that we can help to protect sensitive habitats and endangered habitats," Stuart said.
How it Works
The San Diego Foundation doesn't function like a stereotypical nonprofit, said Stuart.
As a community foundation, it doesn't do direct services, like hold food pantries or distribute meals. Its job is to provide philanthropic dollars that allow others to do the good work, he said. A community foundation, Stuart explained, is generally seen as the community savings account to do "bigger projects and have bigger impact on the community. For The San Diego Foundation, our mission is to inspire enduring philanthropy and enable community solutions to improve quality of life in our region," he said.
To meet its goal, The San Diego Foundation counts on donations from individuals, businesses, foundations and donor-advised funds. About 40% of the donations for San Diego COVID-19 Community Response Fund came from donor-advised funds, said Stuart, adding that, in general, about 80% of the dollars that come out of The San Diego Foundation stays within San Diego County.
He said every year, the nonprofit grants between $55 million and $75 million in funding, which goes to thousands of recipients on an annual basis.