Cutwater Spirits' Ready-To-Drink Category Booming Since COVID-19
Monday, July 20, 2020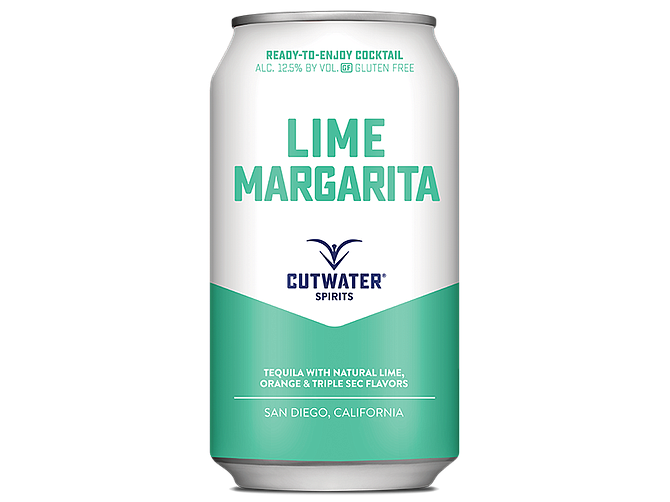 Coronavirus has changed life as we know it – and, apparently this includes consumers' alcohol buying habits.
Since mid-March, the already growing ready-to-drink category (RTD), including canned cocktails made with spirits, has seen a significant spike in sales, according to data.
36% Prefer RTD
From April 2019 to April 2020, RTD has grown at a rate of about 80%, as reported by Nielsen. For the 12-week period between March 7 and May 23, according to the New York-based firm, canned cocktails have "really stood out" in terms of demand since early April. And, for spirits purchased on-premise via take-out orders, 36% of Americans said they prefer single serve, ready-to-drink cans vs 27% opting for a more traditional 375 ml bottle.
Cutwater Spirits, the biggest distillery in San Diego County and arguably in all of California, has experienced a surge in sales of its pre-mixed drinks during the pandemic as well.
Earl Kight, founder and head of sales, chalks this up to a concept as primitive as convenience. He adds that the company's reported eight figure annual revenue has increased by 110% so far this year compared to 2019, and 97% of that is from sales of canned drinks.
Additional Traction
"By default, we were already growing fast, but you layer that with the convenience of a can on top of that, it helped us get some additional traction," he said. "COVID has been kind of significant in the growth. People who consume cocktails have been confined to grocery stores and other big box retailers for their drinking needs. And, we are reaping the benefits."
According to Kight, Cutwater's over 20 canned varieties, including Gin and Tonic, Rum and Ginger, Bloody Mary and Mai Tai, have been selling both on-premise (restaurants, bars) and off-premise (grocery stores) at an accelerated rate since around March.
Off-Premise
Cutwater's RTD has seen a surge in sales in the off-premise segment mainly because food and beverage places are closed, said Kight. Another reason might be becasue most people don't have all of the ingredients to make a specialty cocktail at home, he said. Also, possibly because they might not want to put in the time and money it would take to make one.
As a result, more and more customers are purchasing canned drinks like Cutwater's during the lockdown, he said, adding that Cutwater's pre-mixed canned drinks are readily available at big box retailers like Target and Walmart.
For context, Kight said sales of the Cutwater margarita can in the state of California in the off-premise sector is up 167% so far this year compared to last year.
On-Premise
On the on-premise channel, Kight said the closure of in-dining at restaurants during the crisis has been a significant driver.
"Cans are relatively seasonal or they have been up to now," said Kight. "After on-premise sales shut down for the most part and restaurants began selling food to-go and spirits to-go, a lot of major on-premise chains like Buffalo Wild Wings and Red Robin, reached out to us saying, 'I want to sell four different styles of cans, what can we do?' So, we began to see an uptick there."
Shake and Pour
Laura Johnson, founder and CEO of East Village's You & Yours Distilling Co., which began canning in 2018, said there are various reasons why RTD has seen such an increase in sales in the on-premise segment during quarantine.
One, because that category has been so impacted by the pandemic that, if businesses are able to remain open at limited capacity, they rather sell something that is easy and doesn't require the manpower it takes to shake and pour, she said. The other part is a rightful health concern, she added, as people are shying away from any sort of human contact, including that with a mixologist or a bartender.
"There is a seasonal element to these types of products," said Johnson, who said her own RTD production is on track to at least double last year's output. "We saw them climbing and becoming popular last summer. But this year, because of COVID, we've seen a drastic surge of popularity and awareness in the category."
400 Cans a Minute
Whatever the impetus, Kight said Cutwater is bearing the fruit.
To keep up with the demand, Cutwater Spirits is canning six days a week, 400 cans a minute, he said. Leaning on the success of RTD, Cutwater recently began selling adult-only frozen popsicles (think a traditional Otter Pop with spirits in it), Kight said, and those are also gaining momentum. He said Cutwater Pops are available at retailers like BevMo! and Ralphs.