San Diego Convention Center Receives GBAC Star Facility Accreditation
Thursday, July 16, 2020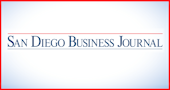 The San Diego Convention Center has announced it received Global Biorisk Advisory Council (GBAC) Star Facility Accreditation, a performance-based accreditation program. It is one of the first convention centers in the United States to achieve the accreditation, according to the organization.
To achieve the third-party validation, SDCC complied with the program's 20 core elements, which range from "standard operating procedures and risk assessment strategies to personal protective equipment (PPE) and emergency preparedness measures."
Under the guidance of GBAC, SDCC will implement stringent protocols for cleaning, disinfection and infectious disease prevention.
"This accreditation is an important step to assuring our guests that when it is time to reopen, San Diego will be working diligently to have one of the safest venues in the nation," said Kevin Faulconer, San Diego mayor.
Travel & Hospitality reporter Mariel Concepcion can be reached at mconcepcion@sdbj.com or 858-634-4625.