Green Guard Cleaning Spawns Fogger Company Amid Pandemic
Tuesday, July 14, 2020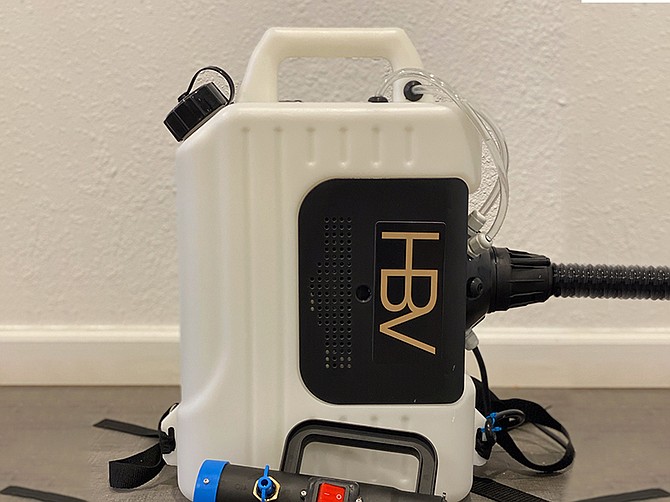 Nathan Leathers is a serial entrepreneur.
In 2009, he founded Green Guard Services Inc., a kitchen exhaust and deep cleaning services company that reached $5.5 million in revenue in 2019.
Compared to March, when the novel coronavirus first hit, business is up 70%, said Leathers, adding that he predicts it will be up by 90% in the next 30 days.
In 2018 he launched Green Guard Printing and Apparel Inc., with a revenue of $400,000/year. This was followed by the acquisition of Hardcore Fitness gym in Vista, which has a seven-figure annual revenue, Leathers said. That same year, Leathers launched Green Guard Merchant Services Inc., a credit card processing company which processes $2 billion in transactions a year. And, in March of this year, he opened a second Hardcore location in San Marcos, which has made a quarter of a million dollars since reopening, he said.
As if that weren't enough, just last month and in response to COVID-19, Leathers embarked on yet another endeavor.
Foggers and Disinfectant Kits
Always Be Hustlin Co., known as ABH for short, sells do-it-yourself foggers and disinfectant kits for commercial spaces and homes as well as fogging and disinfecting services to clients.
In its first month in business, ABH has sold $175,000 worth of foggers, he said. And, due to the resurgence in COVID-19 cases across the country, that figure continues to rapidly scale; he expects revenue to reach between half a million to three quarters of a million dollars by the end of this year.
"People kept asking us about foggers," said 39-year-old Leathers, who graduated from California State University San Marcos with a degree in business, about why he decided to delve into the fogger industry. "So, through a mutual relationship with a manufacturer, I had 600 foggers imported from China."
Electric Backpacks
Appropriately dubbed the ABH, the foggers are 10-liters, electric backpacks that carry 250 gallons of disinfectant – the latter which Leathers also sells through a partnership with a local company – that he says kills COVID-19 and other viruses.
A pail of the chemical sells for $50-$80, he said, which is approximately five gallons of the hydrogen peroxide-based liquid. The foggers sell for $395/piece and ship out the same day, said Leathers, at no additional cost.
Face Masks
Recently, to boost his COVID-19-focused business, Leathers also began making face masks via his printing arm, which he says have been selling well within service industries like construction and landscaping. Because he is able to put company logos on them, it has made them a popular item among insurance brokers and other professionals that find them useful for marketing purposes, he said.
Leathers said the masks, along with other PPE he has been making and selling, have brought in $300,000 in revenue the past month and a half.
Competitors
So far, Leathers said orders for the foggers have mostly come from the Midwest and the East Coast, with only 15% coming from the state of California.
Because Leathers mostly sells outside of the state, he isn't worried much about competitors in his own backyard.
"We don't know a lot of them," he said about other local fogger companies. "Most of our business, 75% of it, comes from our social media marketing anyway. The rest comes from previous relationships and also our reputation of being quick and responsive."
Yet, he is willing to fill the regional void where others may not be able to due to kinks in their supply chain.
To capture some of the local market, Leathers said he and his team are sending out 1,000 hand-written letters to San Diego-based companies and residents this week, introducing the ABH products and services. He said his manufacturer in China is able to ship orders the same day they are placed and they arrive just seven days later to his Escondido-based headquarters, which allows him to fulfill orders quickly.
Until that takes off, he said he will continue to work on growing nationally through marketing efforts via Facebook ads, Instagram and LinkedIn.
Always Be Hustlin
It may all sound like an unmanageable heavy and possibly scattered workload. But, for Leathers, it is all just par for the course. He said part of his management process is setting up written and video standard operating procedures (SOPs), hiring the right people ("always aim to not be the smartest person in the room," he said) and setting goals within the first three weeks of launching. If an employee doesn't meet his or her goal, he immediately addresses their performance. And, if they over perform, they are rewarded, Leathers said.
Leathers also said he usually goes out in the field first – for example, he sold foggers for a handful of weeks – to get a better of understanding of the procedure before training his staff.
"Green Guard is being run by my operational team, which allows me to do other things," he said, as he picked up another call from a school district placing an order for scented private labeled hand sanitizers (yes, he makes those, too). "I'm at Green Guard half of the day, but I don't spend much time running it. I have people handling it so I can focus on processes and procedures."