Lennar Adds 30 $1M Homes to Pacific Beach
Sunday, July 12, 2020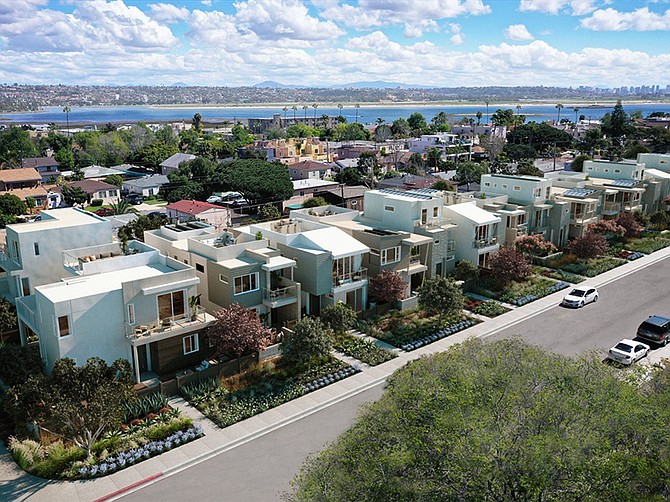 Lennar has finished construction of 30 single- family homes in the Crown Point section of Pacific Beach that form their own little neighborhood.
New home construction in the area largely consists of "tear downs" on one or two lots where older homes are razed to make room for a newer model, said William Ostrem, San Diego division president of Lennar.
"This actually allowed us to create a whole street scene of 30 homes," Ostrem said, adding that the small development "really makes a statement."
"You're part of a neighborhood, a neighborhood within in neighborhood," Ostrem said of the Eko Blok homes.
Designed by Tim Golba of Golba Architecture in Pacific Beach, the homes in Eko Blok on Shasta Street at Fortuna Avenue form a cozy neighborhood with a modern flair.
Priced from about $1.3 million, according to Lennar's website, the two-story and three-story homes of Eko Blok range from 1,655 square feet to 1,776 square feet with three to four bedrooms and two-and-a-half bathrooms to three-and-a-half bathrooms.
Unlike some newer developments, Eko Blok has no homeowner association fees or Mello Roos fees that go toward covering infrastructure costs in newly built communities.
Blending Old and New
Billed by Lennar as "contemporary coastal," the homes have a boxy shape and bright palette that stands out from its surroundings.
Ostrem described the look of Eko Blok as "contemporary in nature" with "very bright and fresh interiors."
There's also touches of an old-fashioned neighborhood.
"They all have fenced-in patios so you can sit out on your first floor and visit with your neighbors," Ostrem said.
The patios range from 200 square feet to 300 square feet on most of the homes, with larger 700 square-foot patios on the homes at the corners of the development, said Danielle Tocco, Lennar Corp. vice president of communications.
Second-floor decks ranging from 50 square feet to 500 square feet provide views down to the coast.
Some homes also have rooftop decks ranging from 200 square feet to 300 square feet, Tocco said.
All of the homes have rooftop solar panels.
The Market
Likely buyers cover a broad range, from so-called millennials to people looking to downsize or who want a second home near the beach, Ostrem said.
"One of the things I really fell in love with about the location is if you drive through Pacific Beach, you get a lot of energy, a lot of things going on, but really, when you get to this location, you're really away from all that activity," Ostrem said.
At the same time, the hot spot of Pacific Beach are close near enough to be accessible.
"You can take a walk or hop on your bike and be in all that activity," Ostrem said.
The COVID-19 pandemic has not caused any issues for construction of Eko Blok, Ostrem said, although it has affected how the homes are presented to potential buyers.
As with other Lennar communities, the company offers virtual tours or buyers can arrange by appointment to take a self-guided or with take a tour with a Lennar associate, Ostrem said.
"The self-guided tour continues to be a stronger feature in San Diego," Ostrem said. "Our number of self-guided tours every week continues to climb.
The Eko Blok homes were open for sale at the end of June comes as the housing market was starting to rebound from what had been a downturn in overall homes sales, with new homes sales rising faster than existing homes, according to one economist.
New Home Market Strong
"We're definitely seeing a strong bounce in the new home market," said Tendayi Kapfidze, an economist with Lending Tree. "The existing market, that hasn't rebounded as well."
Baldwin & Sons, for example, has nearly sold out of one of its Otay Mesa communities – the townhome community of Tosara - and is about to open two more for sale – Cantamar with single-family homes selling from $600,000 to $70,000 and Bella Sitia, with homes selling from about $800,000 to about $900,000, said Melissa Hazlett, vice president of sales and marketing.
Hazlett said home sales in Baldwin's Otay Mesa developments are ahead of where they were a year ago despite the pandemic.
"We're still on target," Hazlett said.
When the pandemic first hit, Hazlett said the company feared that its home sales would drop significantly.
"We were pretty shocked by the fact that we were bracing ourselves and it never came," Hazlett said. "Everybody's still waiting for that bad news but we haven't seen it."
Hazlett speculated that new home sales haven't been overly affected as much by the pandemic as the resale market partly because many homeowners pulled out of the market when the pandemic hit.
It's also easier to arrange virtual tours of new product, she said.
"I don't think they're getting the same impact as of new homes," Hazlett said.
"When you have a professional come into a model home, it's a model home, it's very elegant, there's good lighting, there's music."