Strategic Alliances Put Co. on a Growth Path
Monday, July 6, 2020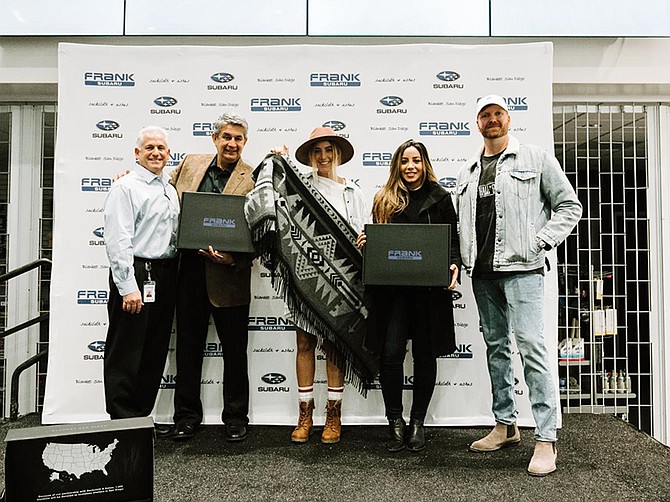 San Diego-based entrepreneur Bob Dalton is tackling the world's global homelessness epidemic, one blanket at a time. His social impact business Sackcloth & Ashes, which sells high quality eco-friendly blankets, aims to donate more than a million blankets to local homeless shelters by 2024.
Launched the Company in 2014
Founded in 2014, Dalton launched the company with $2,000 and a single sewing machine. Over the last six years, the company has taken off growing 100% year-over-year and selling nearly 200,000 products to date.
Bigger than an ordinary fabric company. Sackcloth & Ashes adopts the TOMS one-for-one business model that billionaire Blake Mycoskie revolutionized, however it takes a more localized approach.
What Shelters Needed
"During the beginning stages, I started to call our local homeless shelters to ask what they needed, they all said — blankets," said Dalton, founder and CEO. "That's where I came up with the idea: For every blanket that someone purchases, we donate a blanket to that person's local homeless shelter. For example, if you live in Austin, Texas and purchase our blanket, we will send a blanket to a local shelter in Austin."
Homelessness is a massive problem in the United States and is prevalent in every neighborhood and every city. More than 600,000 people are estimated to be homeless in the United States alone. Interestingly, less than 10% of the homeless population seen on the streets is deemed homeless.
"To deem an entire community based on the behavior of a few is a huge weakness as a society," Dalton added.
Within the first month of launch, Sackcloth & Ashes blankets were being sold in roughly 20 mom-and-pop stores across Oregon and the United Kingdom. Four months later, social media platform Instagram showcased the young company to more than 46 million people through its social media channel causing the startup to grow to 20,000 followers overnight.
Partnering
Not looking back, Sackcloth & Ashes began to partner with leading companies and non-government organizations to scale its impact nationwide. In total, the company has landed over 15 strategic partnerships working with the likes of name brands Sotheby's, Starbucks, Cost Plus World Market and Pfizer. By the end of 2020, the company project annual revenue numbers will reach $3 million in sales.
Serving the greater San Diego County homeless population, Sackcloth & Ashes recently partnered with National City's Frank Subaru in January earlier this year.
Through the partnership, roughly 1,000 blankets will be donated to San Diego homeless shelters including San Diego Rescue Mission and the Monarch School and families transitioning out of homelessness with Humble Design San Diego.

Ron Fornaca, president of Frank Subaru, said the company was proud to go into partnership with Sackcloth & Ashes and provide blankets to San Diego's homeless shelters. "We believe in being a positive force in something bigger and it starts right here in our community. Not just by our donations, but by our actions," he said.
Blanket Drop
Last year, the company hosted a blanket drop at the San Diego Rescue Mission, donating 500 blankets to the center.
Donnie Dee, president and CEO of the San Diego Rescue Mission was thankful to Bob and Sackcloth and Ashes for their donation, adding, "One of the highlights of my job is seeing the team that God is putting together to address the needs of those experiencing homelessness."
"No one can do everything but everyone can do something. The 500 brand new blankets were an incredible blessing to our clients, he said."
San Diego Rescue Mission provides emergency shelter for women and children and is open 365 days a year. It provides a12-month program that offers tools, training, and a spiritual foundation to transform their lives. Each year, they collect millions of pounds of surplus food to use and distribute to local nonprofits providing hunger relief for those beyond their walls.
Public Response
Overall, the public response from the community has been overwhelmingly positive and has led to a domino-effect of opportunities, Dalton said. He said that businesses want to support its mission in any way they can.
Sackcloth & Ashes blankets typically retail at around $109 and are available at select retailers across the nation. Its online retail business continues to grow, Dalton said. The company generates sales from businesses and everyday consumers evenly.
Since the launch of their campaign to Blanket the United States, they have positioned themselves to partner with any company that wants to give blankets as corporate gifts and make a difference in their local communities.
Everyone is Someone
In October, the company is launching "Everyone is Someone," a campaign that will provide blankets and books to children in foster care. The campaign was created as an effort to combat the incredibly high number of children in the foster care system that end up incarcerated or homeless.
"Homelessness is a result of a lot of different issues in society and it is traced all the way back to where our kids are at right now," said Dalton. Its second campaign will provide resources and messages of love to kids in foster care while highlighting nonprofit organizations that are helping kids and adults.
Helping during COVID-19, Sackcloth and Ashes recently partnered with Cost Plus World Market, which has over 250 store locations nationwide, to help donate its surplus of Easter supplies to grassroot organizations using their proprietary nonprofit database.
"I reached out to Jack Schwefel, World Market CEO and asked what can we do to help? He said they were about to close our stores for a few months and they wanted to donate their Easter supplies to grassroots organizations that serve kids. We were able to provide them our database of organizations we work with around the U.S., it brought a lot of inspiration and creativity to our team because we started to help in ways that we didn't even think of yet," said Dalton.
Before Sackcloth and Ashes, Dalton worked as an area developer for the international Christian nonprofit organization Young Life. Working there from ages 19 to 24, he honed his entrepreneurial skills by learning how to build a team, raise money, and how to call people on a mission bigger than themselves.
In 2013, Dalton experienced a personal situation of his mother losing her house and career, which later inspired him to start his mission-driven company to help the homeless population.
Operating in Oregon for the last five years, Dalton decided he wanted to move its headquarters to San Diego to build out its company's partnership pipeline. Growing its local presence, the company has hired seven local staffers and has 13 working at its Oregon facility.
"The only way we are going to create real progress with any social issue is through collaboration," said Dalton. "Our goal is not just to provide blankets to people who need them, but to highlight people and organizations that are creating solutions for homelessness. We want to celebrate that and join in with them."