Rancho Vista Corporate Center Refinanced For $111.5M
Wednesday, January 29, 2020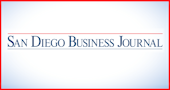 A $111.5 refinancing loan for Rancho Vista Corporate Center in Rancho Bernardo was arranged by CBRE.
The loan for Swift Real Estate Partners was arranged by CBRE's Capital Markets & Debt Structured group in San Francisco.
The group was led by Mike Walker and Brad Zampa and included Megan Woodring and Taylor Shepard.
Annaly Commercial Real Estate was the lender.
Built on a 67.5-acre site, the 816,771 square-foot center at 16399 West Bernardo Drive was acquired by Swift Real Estate Partners in 2016 and underwent $70 million in renovations.