Northrop Grumman Receives $217M Electronics Deal
Wednesday, January 29, 2020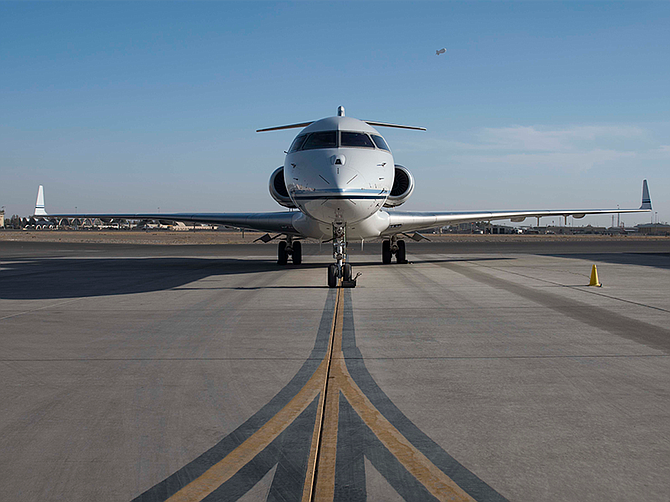 The following are selected defense contracts awarded to San Diego County companies in January. The U.S. Department of Defense releases a digest of contract awards daily at 5 p.m. Eastern Standard Time.
The U.S. Air Force awarded Northrop Grumman Corp.'s San Diego office a one year, $217 million contract modification to extend its contract for payload operation and support of the Battlefield Airborne Communications Node — known for short as BACN. The Air Force likens the BACN electronics to "Wi-Fi in the sky." When flown over a battlefield, the system lets disparate military communications systems talk to each other. The BACN electronics have been flown on a converted executive jet as well as in Northrop Grumman's unmanned Global Hawk aircraft. Work on the latest deal will be performed in San Diego and at undisclosed overseas locations. The total cumulative value of the contract is now $570 million. The Air Force Life Cycle Management Center at Hanscom Air Force Base in Massachusetts awarded the contract, announced on Jan. 22.
IOEI-EQM Joint Venture Gets $35M Deal
The U.S. Army awarded the IOEI-EQM joint venture a $35 million contract to provide emergency, immediate or rapid-response environmental remediation services at contaminated sites. Bids were solicited via the internet with four bids received. Work locations and funding will be determined with each order. Work is expected to be completed by December 2022. The U.S. Army Corps of Engineers of Omaha awarded the deal, announced on Jan. 6.
$7.4M in Waterfront Repairs Go to Marathon
Marathon Construction Co., a small, family-owned business based in Lakeside, received a fixed-price $7.38 million task order to repair a deteriorated quay wall at Naval Base San Diego. The work to be performed provides for the renovation of several sections of the quay wall along the piers at the naval base known informally as the 32nd Street Naval Station. Work includes repair of the wall's substructure, steel sheet piles, relieving platform and berthing system defects. The contractor is expected to finish the job by January 2022. The Naval Facilities Engineering Command Southwest of San Diego received two proposals for the work. It announced the winning bidder on Jan. 9.
San Diego Supports DRS Contract
The U.S. Navy awarded DRS Systems Inc. a one year contract modification for program management, engineering and logistics support to mitigate identified risks to the Distributed Aperture Infrared Countermeasure program. Some 27% of the $7.7 million contract — worth slightly more than $2 million — will be performed in San Diego. The Naval Air Systems Command of Patuxent River, Maryland awarded the contract, announced on Jan. 13.